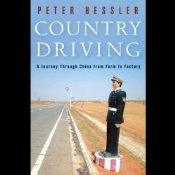 http://www.audible.com/pd/ref=sr_1_1?asin=B0037AAK1O&qid=1357002510&sr=1-1
I read Country Driving just weeks before going to China recently and I am so glad that I did. The author, Peter Hessler, does an excellent job in describing China, especially "off the beaten path".
The book helped me to have an "open mind" and "put down some of my own stereotypes" about China, and go there to just enjoy the experience and take it all in.
Thanks Peter Hessler for writing such a great book and helping me to thoroughly enjoy the great land and people of China!