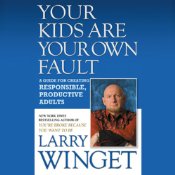 "Parents Should be Parents and Children …Children"
Larry Winget does a very good job in pointing out a lot of the "issues" that parents face in trying to raise the current generation of kids.
If you're past the 35 years of age mark, then you'll get a lot of what the author is talking about and how so much of all of that is missing in today's parenting and the youth of today.
If you're under 35… forget it!!! Unless you're willing to really take the time to understand a time when "the rod wasn't spared" or "children are meant to be seen and not heard", or having the "mixing of church and State in politics, education and every strata of society", then you'll understand what the author points out that so much what's missing in today's child rearing, are the good old fashioned values that used to be in society.
I spend a great deal of time traveling internationally, and I can really see a real life comparison of societies that still respect their elders and parents, and where we're headed here in America and throughout the Western world.
Author Larry Winget points all of this out and more in a humorous and straight forward approach that makes reading this book fun and enjoyable… yet, very informative.
http://www.audible.com/pd/ref=sr_1_1?asin=B0030GDOWC&qid=1368443593&sr=1-1 
Good reading and highly recommended for all!