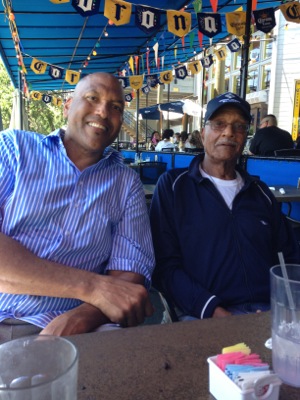 Dedication
To my father, James L. Donaldson II
With great honor, joy, and admiration, this book is dedicated to my father. He is the man who has been a consistent positive influence throughout my life, and the one who dedicated his life to being the provider, protector, positive influence, and constant presence in the lives of all our family despite the challenges, pressures, and demands that were placed upon him during his own journey through this thing we call "life."
In this media frenzy and photo opportunity world we live in, where dads seem almost absent, and so much credit and adulation is given to "Mom," I want to take this moment to say, "Thank you, Dad."
Dad, you'll never know the full extent of what you meant to me throughout my life. I may have grown to be bigger in physical stature than you and even wear a larger shoe size, but I pale in comparison and will never be able to fill your shoes.
You've blazed trails so I'll never have to put in as much effort to travel them as you have. You've overcome challenges and battles I'll never have to face or fight.
I'll never be able to say thank you enough, but I hope that by my being the model of an exemplary life, I make you happy and proud—it's my way of giving back and saying, "Thank You."
–        Thank you for being you.
–        Thank you for being the best "you" that you knew how to be.
–        Thank you for showing, leading, and helping me to be the best me I can be.
–        Thank you for being there for all of us (especially me).
Love always,
Your son,
James L. Donaldson III
This dedication is an actual excerpt from the book, Standing Above the Crowd.  You can order your own autographed copy by going to the website and just asking (smile!).