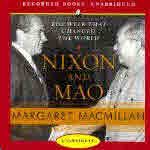 1972 seems like eons ago, but in reality, it wasn't that long ago when these two global superpowers (USA and China) had a very historic meeting that set the stage for where we are today. Thanks to President Richard Nixon and his Secretary of State, Henry Kissinger, the US took the necessary steps to proactively engage China and China's leadership.
The meeting was so historic because it open relations with China, who had been closed since the Communist came to power in the 1940's. Both Superpowers have come a very long way since then.  America has been #1 since WWII, but China is on the rise now and most likely will be the global economic leader within the next decade.
The author, Margaret McMillan, does a really good job in detailing the back and forth that took place in even arranging the meetings.  Also, with so much at stake at the time, in global peace relations at the time, this was a meeting for the ages and the right time and place.
http://www.audible.com/pd/ref=sr_1_2?asin=B002VA9HCE&qid=1370926778&sr=1-2