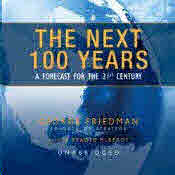 If we study history of the great civilizations that came before us, we can start seeing some parallels and commonalities
between the ancients and where we are today as the greatest civilization of the last 100 years.
Friedman does a good job in helping us to get a glimpse of the next 100 years (decade by decade) as our country goes
through rising inflation, gas/fuel shortages and prices hikes, population increases, immigration challenges,
environmental issues and global climate changes.  And those are just internal problems!!! Bleak?  Yes and no.  We have
many technological advantages that our predecessors didn't have, but it's up to us to identify and use them wisely.
Face it, in a world that is closing in on 10 billion people in our lifetimes, we're going to all have to figure out how to get
along and feed, house, employ, transport, educate and provide medical care on a global scale.
I liked this book a lot and will keep it as a reference for things to come in my lifetime and future generations to come.
http://www.audible.com/search/ref=hp_tseft?advsearchKeywords=the+next+100+years&filterby=field-keywords&sprefix=the+next+100