I had the very interesting (and first for me!) discussion this week in the gym as I was getting my workout in about of all things… skin care for men! Now, mind you, I'm the type of person who loves to talk to just about anyone, about anything, in the gym when I'm working out. I'm almost always engaged in a conversation with whomever will have one with me about something or another (politics, social issues, health, religion, education, sports… you name it!).
I'm an early morning workout guy too, so that just adds to the occasion when some "friends in the gym", just turn up their ipods and try not to engage in too many deep discussions with me when they see me coming around. J Plus, I never pass up a chance to say hello… with a smile!. J I get it!, some people aren't early morning people… or even that friendly sometimes!. J
So this week in the gym, one of my workout buddies (a big 'ol strapping, brawny, macho police officer in town!) and I started talking about men's skin care. I mentioned to him that the night before, after a day of golf and watching the NBA Finals, I had given myself a "facial" which included a deep cleanse skin peel, mud mask, eye gel wrinkle remover and night time skin conditioner. Of course he gave me a hard time about all of that, but then he and I started talking about (yes, like most people… even us guys are vain about our looks, but it's mostly about keeping the skin healthy) and we have to "take care of ourselves on the outside as well as on the inside".
Yes, I looked like the Creature From The Black Lagoon for a few minutes with my face mud mask on, (and no, I'm not going to post those photos, because they'll be out there going viral forever more! J), but after I rinsed all of that off… yes, a whole new refreshed me!).
So, listen up guys! Take the time to take care of your skin as well as pumping iron, exercising and eating healthy foods. My favorite time for a thorough skin care treatment (2 – 3 times a week before bed) is after a long day of working or being outdoors (golfing, sunning, exercising, yard work, etc.). You'll be amazed at not only how great your skin will feel (I've got a bald, shaved head as well, so I treat everything above the shoulders!), but the half hour or so that you take to slow things down is so relaxing and stress reducing, that you'll sleep like a baby. If you have a significant other, have her (or him) join in and enjoy the experience with you. It's great bonding time as well!
My favorite skin care line that I've come across of late is the Seacret – Minerals From The Dead Sea http://www.seacretdirect.com/?ID=JamesD2012 Go online and take a look and if you have any questions, just shoot me a quick email. I work with a very professional team of people who are great to be with.
The Seacret product line is made up of minerals/salts/oils from the Dead Sea, with no chemicals and great fragrances. I'll share more from time to time, since it is something that men are talking about now. Of course, for you ladies out there, there are tons of wonderful Seacret products just waiting for you too! Take a look and enjoy the experience together with your loved one!
Enjoy!
James Donaldson
JUNE 20, 2013 3:22 PM
BY RHEANA MURRAY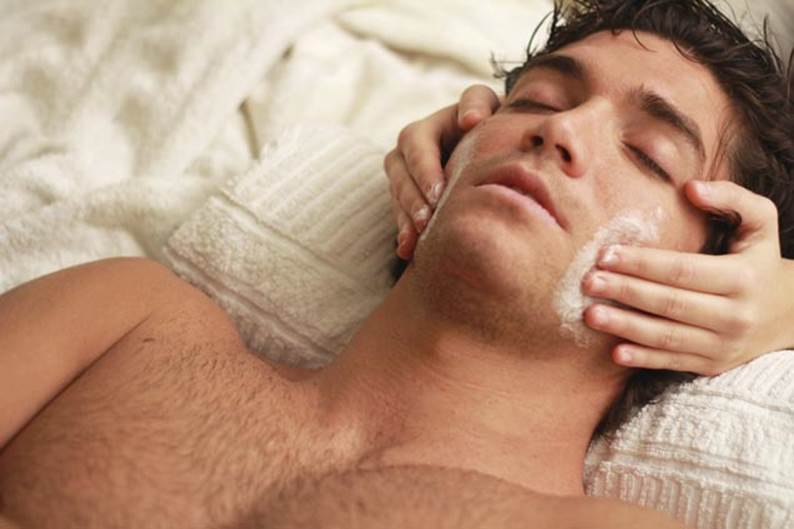 Ladies, check your medicine cabinets: If your eye cream is missing, here's why.
A growing number of men have discovered the joys of primping and pampering, according to new research. They're embracing manicures, facials, self-tanners — even makeup.
According to marketing company JWT's annual "State of Men" report, more than half of men are using skincare products like moisturizers and serums.
About one-third of these twenty and thirty-somethings also say facials are an acceptable treatment for men.
More fun tidbits from AdWeek, about what today's men think is OK:
Waxing/hair removal – 45%
Foundation – 18%
Nail polish – 14%
Eyeliner – 12%
The study, which surveyed 1,000 people in the US and UK, also pinpointed men's top areas of anxiety: man boobs, beer belly and height.
· Body
· JWT
(categories, business, success)
(tags, james donaldson, james, donaldson, seacret, dead sea, minerals, skin care, cosmetics, health, exercise, millennial, manicures, facials, makeup, men, women, stress, conditioner, creature from the black lagoon, skin peel, standing above the crowd, nba, golf)
James Donaldson
President of The Donaldson Clinic
Author of Standing Above the Crowd and Professional Keynote Speaker
JamesD
JamesD
1-800-745-3161 (Voice mail and fax)
Follow me on Twitter@TeamDonaldson
Skype with me at Skype ID TallManTall