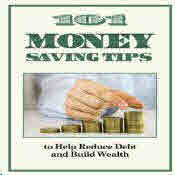 101 saving tips is a simple list of things you can do to get out of debt and to get a better handle of your finances.  Easy to read, easy to follow and easy to understand.
We just need the desire and dedication to stick to it and make it happen.
Here are some excerpts from the list:
Number 01 – all grocery stores are not created equal
Number 02 – find a discount shopping network like Sam's or Costco
Number 03 – never go into a grocery store when you're hungry
Number 04 – make a list before shopping
Number 05 – watch your local grocery store for shopping coupons
Number 06 – stock up on sale items when they are discounted
Number 07 – compare the unit price of the item with similar items
Number 08 – purchase fruits and vegetables that are in season for the lowest prices
Number 34 – use a coupon organizer so that you can always find and organize your coupons
Number 35 – eating at home versus eating in restaurants can save a lot of money
Number 36 – cooked meals ahead of time for the whole week
Number 37 – keep several simple recipes on hand for quick and inexpensive meals
Number 38 – try not shopping for one week and eat the food that is stored up in your pantry
Number 39 – fix your lunches at home
Number 40 – shop for snacks at the big-box or club stores
Number 41 – clean up your freezer and eat what's in there, by not shopping, more savings
Number 42 – make one night a week "pick- it" week by eating leftovers
Number 43 – by snack foods in bulk, and then store them in smaller Ziploc bags to keep fresh
Number 44 – have a soup salad/veggie night to cut down on expenses of eating meats
Number 45 – plant a garden
Number 46 – purchase coffee at the discount clubs
Number 47 – mix premium and regular coffee beans together
Number 48 – stock up on favorite ice creams instead of purchasing from the ice cream truck
Number 49 – create meals from scratch whenever possible
Number 50 – make your own bread from bread machines for healthier/less expensive bread
Number 51 – use overly ripe fruits in your baking of bread
Number 78 – create a budget and stay firm with your commitment to it
Number 79 – look at bank statements to see where you are spending your money
Number 80 – try to eliminate cash expenses
Number 81 – use bank cards, and that will curb your habit of drawing cash out of the ATM
Number 82 – consolidate credit cards to the lowest interest rate cards
Number 83 – make it a goal to study financial management
Number 84 – contact an attorney for proper estate planning
Number 85 – contact an investment broker to learn about investment options
Number 86 – if you need a babysitter, put for family and friends first
Number 87 – take care of your own lawn
Number 97 – be determined to avoid impulse purchases
Number 98 – shop garage sales for items
Number 99 – shop for Christmas and birthday gifts when they're on sale
Number 100 – rent movies from movie kiosk, rather than an expensive night out at the movies
Number 101 – purchase used vehicles only
This book was a good, quick read, that was chock full of useful tidbits of how to better manage the debt that you might be in, and the family household budget.  It advised is not to get too caught up in the "brand name game" since most products/foods are made by a handful of companies and the only real difference is the label and the price.  It gave great advice on getting out of credit card debt, basic everyday shopping and planning for your future.
I found this book very helpful as a general basic reminder of everyday things that I can do to better manage my household budget.  Even if I utilize only 20 to 30 of the tips and really implement them into my everyday life, it would make a big difference for me, and for you.  I highly recommend this book for everyone!