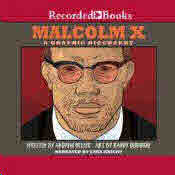 Malcolm X: A Graphic Biography, is an intriguing, fast-paced moving look at the life and times of Malcolm X.  The author, Andrew Helfer, does a great job in conveying to the reader the experiences that Malcolm X went through and his conversions throughout his life.  He details the ongoing struggle that Malcolm X was involved in in regards to the liberation, empowerment, social justice of the black race.
Malcolm X was one of the key figures of the civil rights era both here in the United States and abroad throughout the 1950s and 60s, and helping others to realize that the opportunities, power and control of one's destiny, lay within themselves, but they would have to fight for it in order to obtain it. "Any Means Necessary", became the mantra that Malcolm X is best known for.  He would encourage people to fight for what is right, and fight for what is rightfully theirs.
This is a great book, and a great look back at the life and times of Malcolm X.  I highly recommend this book to anyone with a sense of history, a thirst for the understanding and contrary to popular public opinion of what the civil rights era was all about.  The book also does a great job in speaking of Malcolm X's personal life, friends, enemies and his ongoing struggle within himself and the Nation of Islam.