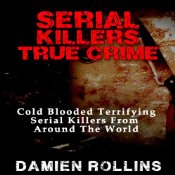 This was a fascinating look into the minds and ways of serial killers.  The author goes into pretty good detail about the motivation and categories that most serial killers tend to fall into.
The end of the book goes into the history of some of the most notorious serial killers that we know about (Jack the Ripper, H.H. Holmes, etc.).
I found this book to be very good, albeit, a scary look at how some seemingly perfectly normal people, living right among us, can turn into/become serial killers.
http://www.audible.com/pd/Bios-Memoirs/Serial-Killers-True-Crime-Audiobook/B00DQU83YG