http://www.audible.com/pd/Radio-TV/Studio-360-The-Autobiography-of-Malcolm-X-Audiobook/B004S7SQG6/ref=sr_1_1?qid=1379309995&sr=1-1
I really enjoyed the 360 interview format, in which participants also got a chance to make meaningful and useful comments on the autobiography of Malcolm X.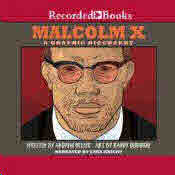 Malcolm X was an impactful civil rights figure who went about trying to serve the underserved and represent those he felt were underrepresented.
He scared the living daylights out of and was a threat to White America because of his assertive and aggressive tactics, and his mantra "By Any Means Necessary".
Definitely ahead of his time, but he came along at a time when what he stood for, fought for, and died for was needed most.