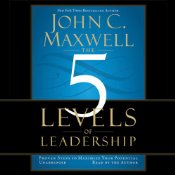 http://www.audible.com/pd/Business/The-5-Levels-of-Leadership-Audiobook/B005O1YJCU
Without a doubt one of the best books for leadership that I have ever read!  The author, John Maxwell, describes five levels of leadership that sound simple in theory, but obviously require a lot of work and a journey of a lifetime to achieve.
As a business owner myself, I strive to continue to be the best leader that I can for the team that I am part of.  There's a lot of work to do, and a lot of effort put in every day, a lot of people to manage, and to help grow to their potential, but it's worth it.
I learned a lot from this wonderful book and I say it's a must read for everyone whether you're a business leader or not.