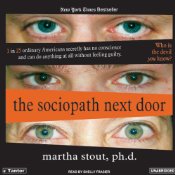 http://www.audible.com/pd/Science-Technology/The-Sociopath-Next-Door-Audiobook/B002V8MREQ
How many of us really, truly know what's going on behind the doors and in the minds of neighbors and friends who we think we know well? Just look at the recent Ariel Castro kidnapping case in Cleveland where even his own family didn't know that he held 3 young girls captives for 10 years or so.
So, when author Martha Stout depicts in this text about all of the sociopaths that have been discovered in her book, The Sociopath Next Door", that is probably just a "drop in the bucket" as we see things played out almost on a monthly basis of killings and killing sprees, or serial killers being found out in our country.  She talks about how 4% of the population is sociopathic (1 out of 25!)
It's sad, shocking and scary.
This is a really good book that take a great look at the possibility of just normal, everyday people among us who just might be… just might be… sociopathic.