Well, it's all over the news this week that flamboyant, former NBA Hall of Famer, Dennis Rodman headed back to North Korea along with a team of former NBA players to conduct an exhibition game as part of the birthday celebrations of the North Korean leader, Kim Jong Un.  I was one of those invited (by one of Rodman's "people") to be part of the delegation of former players to go along on this trip, but due to a schedule conflict, I wasn't able to participate.
By seeing, hearing and witnessing the controversial fallout that is been occurring since the players arrived in North Korea, it's easy to sit back and play "Monday morning quarterback" and for all of us to say "I told you so", or "what in the world are those guys doing over there?", especially after seeing Rodman's emotional tirade during the CNN interview with Chris Cuomo (all Rodman had to do was answer the question about rescuing detained American, Kenneth Bae, yes or no, and move on to the next question).
I too am surprised by the "craziness" of this whole circus act that is been going on for the last year with Dennis Rodman and North Korea.  I'm still holding out hope that something good can come out of all of this, and if not, it's a wasted opportunity that was filled with tremendous potential at one point.  After all, not many people get a chance to be invited into a "closed society" and actually become best friends with the head honcho (actually, I remember having a good American lady friend of mine, who became one of the many mistresses of former Libyan strongman, Muammar Gaddafi so, I guess there are more than one way to get close to the "inner circle" as it was).  Dennis Rodman has done just that.  Politicians, big name celebs, news media are all so envious of him.
Come on everyone; are we really all that surprised by Dennis's latest antics?  He's been a larger-than-life persona over the last two decades when he first started tattooing himself from head to toe, dying his hair a different bright fluorescent "color of the day", oh yeah, and let's not forget the piercings and sunglasses to boot!  But hey, he was a terrific rebounding machine in the NBA (I know firsthand about that, as I used to have to match up with him frequently), and he also won the NBA championship several times over, plus, he's in the NBA Hall of Fame.  You know, actually he's a pretty smart guy, and he knows what he's doing, he's just a little, hmmmm … How should I say? … "special".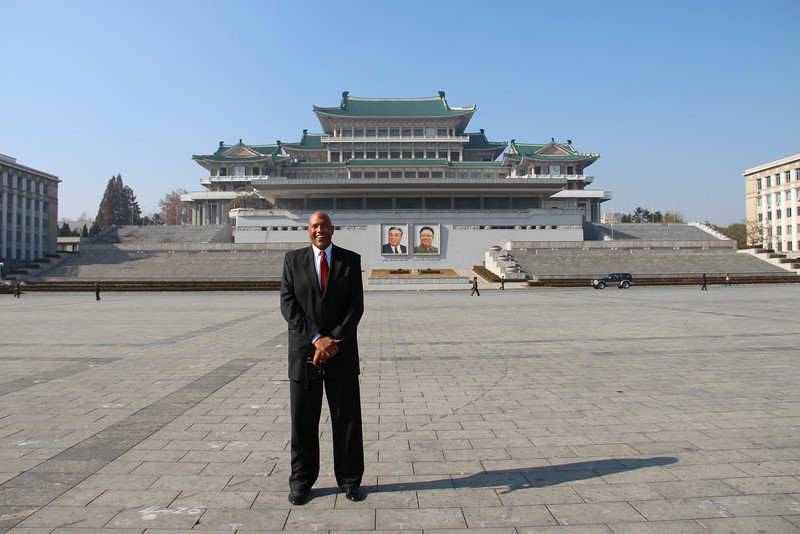 From the latest news reports, it seems like the former players who went along with him on the trip, are now having second thoughts and showing some remorse for being part of this delegation.  I know all of the guys personally, so I'll be chatting with them once they return from their North Korean trip.  One of the bits of advice that I received when I was contemplating going along with the group, was that no matter what the overall good intentions were meant to be by conducting an exhibition game in North Korea, all that would be overshadowed by the "Dennis Rodman sideshow", and sure enough, sadly, that's the case.
Why would I be interested in going along with Dennis Rodman to North Korea?  Well, for starters, I was actually the first former NBA player to visit North Korea back in November 2012.  (I believe Rodman's first visit was in January/February 2013).  I went along with a nonprofit humanitarian group that has been going in and out of North Korea perhaps 2 – 3 times per year over the last 20 years, as they do a lot of good work pertaining to infrastructure building, agricultural development, irrigation systems, food aid and the like.  I met with the same sports/basketball officials that I see Rodman being hosted by. Over the last couple of years, I've met a lot of wonderful people doing a lot of really good things (behind the scenes) in and with North Korea.  I'm happy to say that now; I'm a board member with that nonprofit humanitarian group which is named, Global Resource Services, www.GRSWorld.org (donations are much needed and appreciated!) and headed by a truly remarkable man, Mr. Rob Springs.  Our board is made up of a lot of "experts" on North Korea who knows the makeup, demographics and "issues" pertaining to North Korea better than most anybody you'd ever come across. So, I get a lot of my information on North Korea from the experts who have been there and done that for the last couple of decades.  I can't believe a lot of the media spin, hype and propaganda (on both sides) that we get fed on almost a weekly basis pertaining to North Korea!  As they often say, don't believe the hype!  Take time to study, and learn the facts from the experts, and take as much emotion out of it as you possibly can.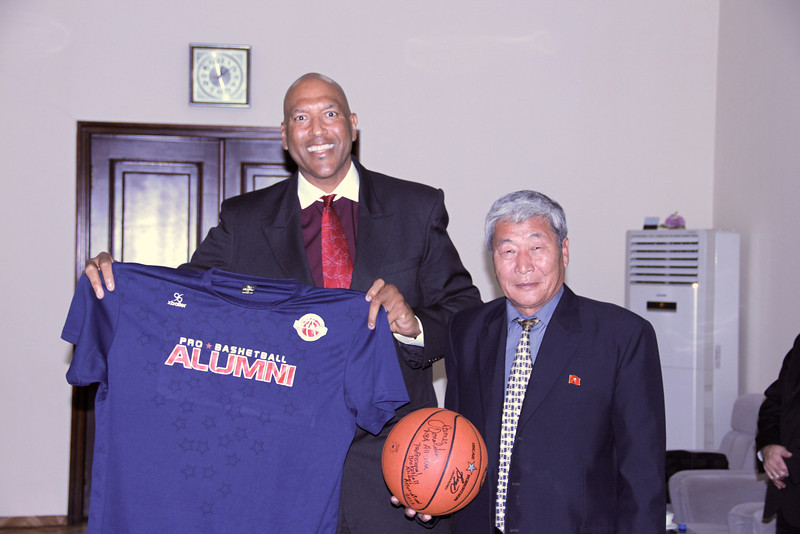 So, that was my interest in wanting to go along with Dennis Rodman. But, the experts on our board really wanted me to be careful if I did go along, and thank God, that didn't come to pass.  Actually, the schedule conflict that I had, was this week in China was being awarded a "Person of the Year" honor for a lot of my outstanding work that I do in China with the Chinese youth in regards to encouraging them and inspiring them to be the "best they can be", and also inviting them to participate in study abroad opportunities in the USA, as well as short term/long term cultural exchange programs.  I'm also working on bringing former NBA players to China for basketball related opportunities (camps, clinics, exhibition games, etc.) (Did you know that there are over 750 million NBA basketball in China alone?).
So, with that being the case, I just couldn't let all of that go by the wayside, and had to opt out of going back to North Korea with Rodman's group.  I know, I know, I can hear you all right now… you're all saying "good thing" and "what luck"! I'll return to North Korea at another time with the Global Resource Services group and we'll continue the good work that we're doing there.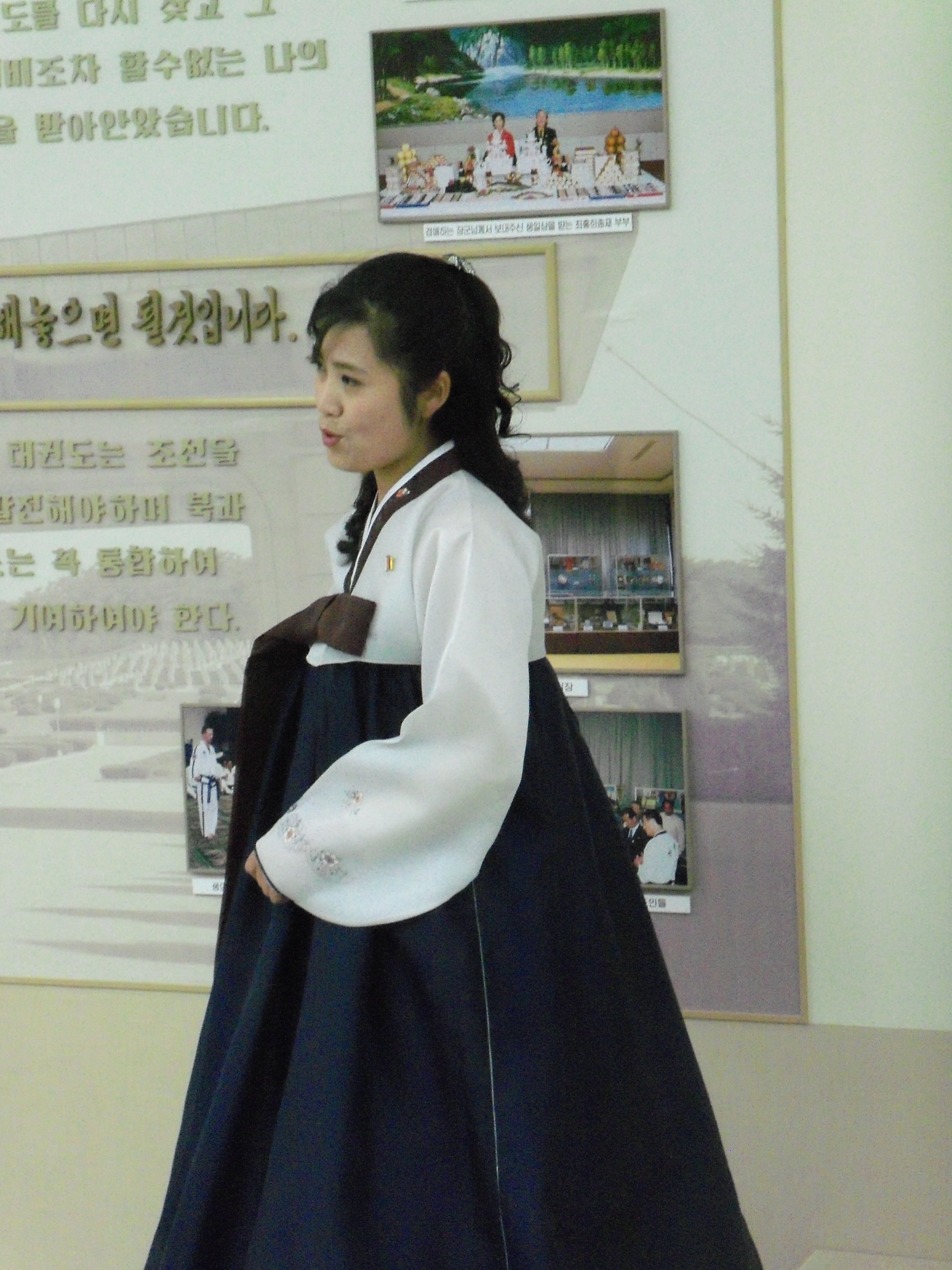 All of the guys on the trip with Rodman are great guys.  I'm sure that they didn't expect the backlash and controversy.  Charles Smith, the former New York Knick, and from all appearances, the "rational spokesman" for the group, is a dear friend of mine, and we worked together over the years with the former NBA players with the NBA Retired Players Association (he was Executive Director and I was a board member), and we're still working together to assist former NBA players with their transitions into real, everyday life (this is some of that real, everyday life stuff the guys are going through now).  Charles has said "all of the right things" but it's all getting lost in the craziness that surrounds and follows Dennis Rodman everywhere he goes. I don't know this for a fact, but I'm sure that Charles and the guys were just doing Dennis "a favor" by accompanying him to North Korea, since Dennis is always reliable and willing to be the "headliner" for the many exhibition games that the former NBA players play in around the world. Even here in China, Dennis Rodman is the most requested headliner name that the Chinese people want to have as part of the exhibition games that we do here. I know it wasn't about the money, because the money that I was offered (as well as the rest of the guys) was basically a round trip business class airplane ticket, and barely enough money to purchase the round trip ticket if one had to.
Anyway, I believe this all to be another 24 hour news cycle and after everything calms down, we'll soon forget about it and move on.  Everyone (the US government, the NBA, the NBRPA, the media… unless there's a good story to be had) is distancing themselves from the former NBA players team that went to North Korea, but when everything is back to normal, it'll seem like ancient history, which by the way, this is a very historic moment, like it or not.
Dennis Rodman, in his own unique way, has been able to get into North Korea (no, he's not going to work on rescuing detained American Kenneth Bae), befriend the new young leader, allow us to see the North Koreans as actual people "the humanizing effect", and now, has conducted a basketball game there featuring former NBA players.  This just might be the beginning of breaking down the barriers and building bridges.  Look at how long it took for the Berlin Wall to come down?
Sometimes, the initial efforts to begin something new are painful.  Just look at the civil rights movements, ending apartheid, same sex rights, women voting, President Obama's Middle East tours … and so it is with North Korea.  We don't know how it'll all play out, but we can hope to the best and "keep hope alive"… and, keep on trying.