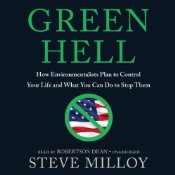 http://www.audible.com/pd/Nonfiction/Green-Hell-Audiobook/B002VA9PDK

I thought that this book took a hard look, too hard of a look at the path that the "environmental elites" are trying to take us on. 
 The author, Steven Milloy, uses a few "scare tactics" here and there, but for the most part, this book can serve as a real eye opener of what will happen to our world if we don't take some reasonable measures of some sort.  We don't need to be extreme, but we do need to be pro-active and measured in approach.
Good book to read and keep in mind as the move into the future, especially once the emerging countries "come online".