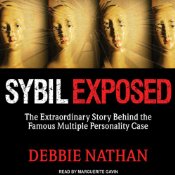 http://www.audible.com/pd/History/Sybil-Exposed-Audiobook/B006P2W5P0
Well, an interesting look into the world of multiple personalities, with the main character personality being, Sybil.
Was it real?  Was it a hoax? Fascinating, that's for sure!
The author, takes us back to over the last 100 years of treatment that was common in the United States at the time.  The discussion is about various methods and treatments, medications, sexual deviancy and multiple personalities.
This whole "cottage" industry sprung up and really took hold in the 50's, 60's and 70's at a time when women were "discovering themselves, but at the
Of course, many books, movies and plays became part of Western cultural folklore with all of this going on.
I've seen movies, read books about the subject in various forms and whatnot, but it's good to see that this book was well written and exposed the whole Sybil case.