http://www.audible.com/pd/Science-Technology/Why-Is-the-Penis-Shaped-Like-That-Audiobook/B007ZSRM3S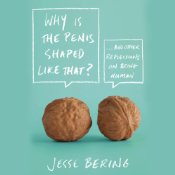 Okay, you got me!  I have to admit that the title of the book caught my attention, but once I got into it, I realized that this book is chock full of information on the body and body parts that I typically don't give much thought to.  I do now!
The book goes into good enough detail on how and why humans do what we do, and how we evolved to be that way.  I found it to be very informative and it kept my attention throughout.
Guess what?… I did find out why the penis is shaped that way!  And, that alone is worth the price of the book.
If you want a book that talks about and explains so many of the body functions that usually only bring about a blush to ones face, or have you speaking in code "down there", "private parts" or "unmentionables", then this book is for you.
The author, Jesse Bering, writes about everything under the sun from anal sex, bestiality, foot fetishes, gay/straight stuff, religion, death and dying… and so much more.  Plus, you'll even find out why the penis is shaped that way. (smile!)
Enjoy the book and get over some "hangups" that you might have about why people are the way that they are, and that when it comes down to it, there's really nothing wrong with it and it's nature playing its role the way that nature does.