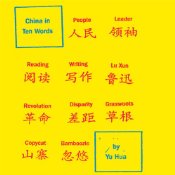 http://www.audible.com/write-review?asin=B007Z1ICPC&rdpath=%2Fpd%2FHistory%2FChina-in-Ten-Words-Audiobook%2FB007Z1ICPC&ie=UTF8&pf_rd_r=1B6N20CB9NWQGGKQHXP1&pf_rd_m=A2ZO8JX97D5MN9&pf_rd_t=101&pf_rd_i=detail-page&pf_rd_p=1407849922&pf_rd_s=center-2
These are just a few of the 10 words that the author uses in describing not only historical China, but today's modern China.
As a frequent visitor to China myself, I would say that the writer is spot on with just about everything that he's telling us.  China is a culture rich in tradition, history, and amazing people, who have gone through evolution of change in leadership, and now are surging ahead to become the global economic power in the world in a short time.
If you have an interest in China, this book will be perfect for you.  It's short, concise, and the author, Yu Hua, does a fantastic job of keeping us engaged throughout.
Enjoy reading about China, old and new, and this excellent book, China in 10 Words!