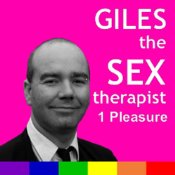 http://www.audible.com/pd/Erotica-Sexuality/Giles-the-Sex-Therapist-Pleasure-Audiobook/B004L5MUT4
It's refreshing to be able to read a book that talks about "men's sexual issues" that all of us guys have dealt with since adolescence.
Nowadays, there's more scientific and nonscientific information out there than ever before, plus men are feeling a lot more comfortable about their sexuality.
In this book, Giles the Sex Therapist, goes into some pretty good detail in regards to various acts of self pleasure, which includes masturbation (featuring techniques that I never imagined!), wet dreams, fantasies, fetishes and so much more. Personally,
I'm very comfortable with my sexuality (of course, I had to say that… Smile!), but I still found this a great reference book and everything that I needed and wanted to know about acts of self pleasure. I'm glad that there's books out there like this in an interview format, that helps "men to be able to talk to men about men's issues", and hopefully that will help all of us men to fill a lot more comfortable about who we are and what we do when it comes to sexual pleasures.
I highly recommend this book to all my guy friends out there, and even to their sexual partners of all persuasions.