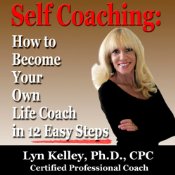 http://www.audible.com/pd/Self-Development/Self-Coaching-Audiobook/B00B9JASZS
This was a pretty straightforward but that laid out an approach of goal setting, positive thinking, perseverance and working hard to achieve what you want in life.
The author, Lyn Kelley, is a well renowned motivational speaker and life coach herself.  So she knows a thing or two about what she's talking about.
I found this book to be a good refresher course for me, who is a self-starter and highly motivated individual anyway, but I also feel it will be a wonderful asset for anyone who wants to try to achieve more out of life.
Some of the various chapter headings include topics such as:
•             Chapter 2: Why Do I Want It?
•             Chapter 3: My Personal Vision – Creating A Personal Vision/Mission Statement
•             Chapter 4: What Has Stopped Me in the past?  – Self Sabotage & Fear
•             Chapter 6: What Do I Need to Change in Order to Achieve It?
•             Chapter 7: Creating My Action Plan
•             Chapter 9: Who Has Done This before Me?  – Mentors and Role Models
•             Chapter 11: How Am I Doing?  – Assessing Progress
•             Chapter 12: I'm Confident I Can Do It – Accepting Success