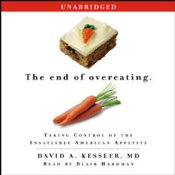 http://www.audible.com/pd/Health-Fitness/The-End-of-Overeating-Audiobook/B002UZKQA2
Author, Dr. David Kessler, provides a very good book in regards to many of the "issues" of overeating, obesity and health related issues pertaining to weight, not only in the United States, but worldwide.
The book takes an interesting look into the food industry itself, and how through scientific research, certain foods (especially those containing sugar, fat and salt) trigger off pleasurable brain activities that leave you craving for more.
For the most part, the book is easy to read and follow without being overly scientific or technical.
As with most things in life, we need to inform ourselves as best we can and not be the "victims" so that we can pick and choose and make the best decisions for ourselves personally.  I know, "easy to say but so difficult to do".
This book can be an important guideline and reference for all of us in regards to what it is that we are buying from the store shelves, what our food is laced with in order to entice us to eat more and more of it, and how to choose wisely into what we put in our body.  Of course, were always going to be barraged by marketing campaigns of one thing or another, but if we understood that all of that is an attempt to get us to purchase and consume more, we be that much better off.
In order to understand better the growing epidemic of obesity and overeating in our society, I recommend that you read this book and apply it were applicable.  There is not only a huge cost in your personal health that's at stake, but society as well.