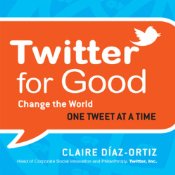 http://www.audible.com/pd/Business/Twitter-for-Good-Audiobook/B006T4ALQY
I thought that this was one of the few books that I have read that actually taught me something in regards as to how to do "something good" with all of this social media stuff out there.
The author gives us some easy to follow steps that go as such:
T = target
W =write
E = engage
E = explore
T = track
It's good to see that Twitter is and can be relevant.  The author breaks it down, takes her time and helps us to make sense out of the whole Twitter Universe.