As many of you know who follow my blog, I spend a great amount of time in China working with educational study abroad opportunities for the Chinese youth. Periodically, especially during the summer, there are groups of Chinese youth that I work with who come to the United States for the summer "Short-term" programs that we create for them.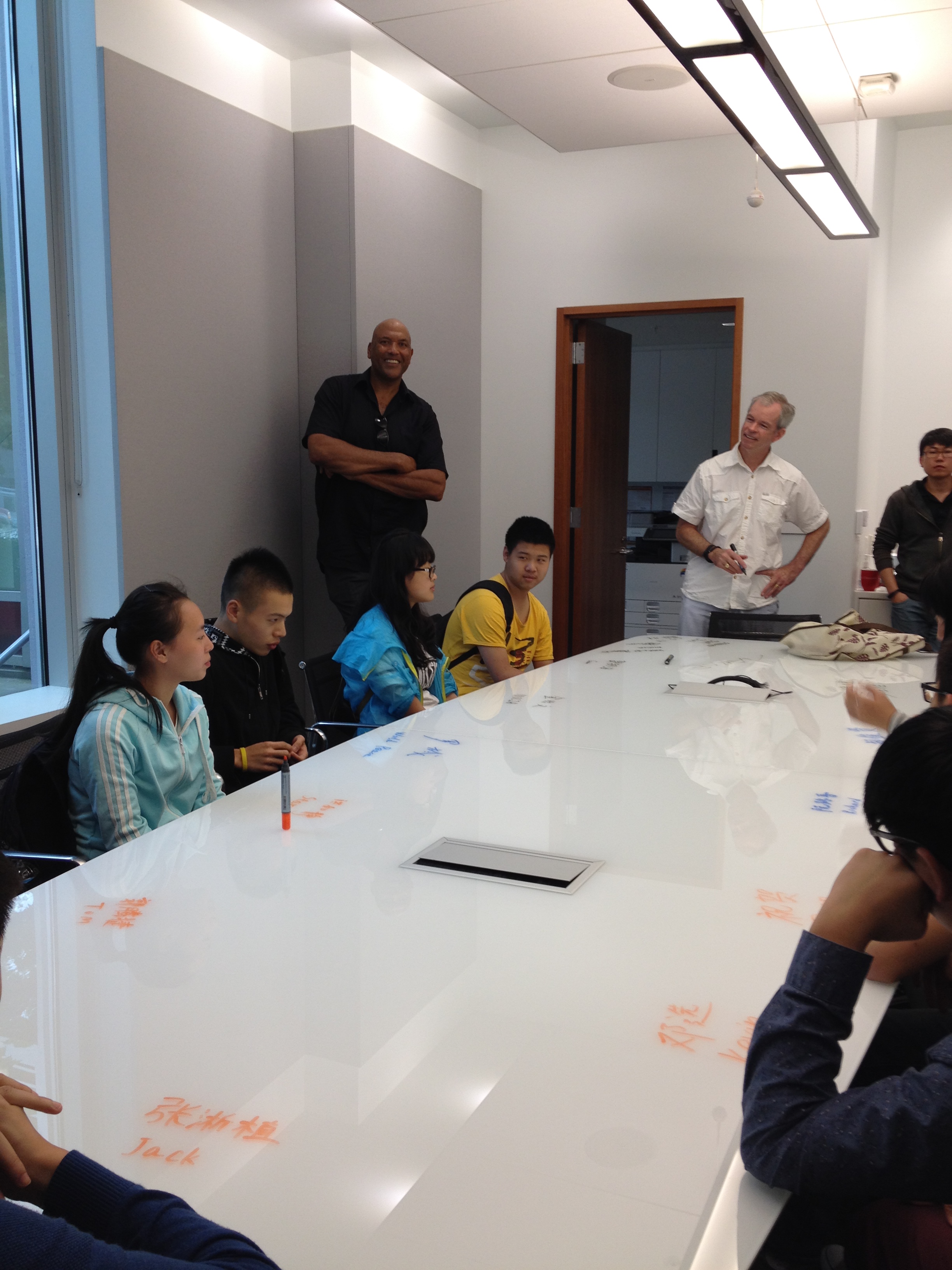 I am hosting a group from China this week in Seattle, and along with visiting several community colleges and universities in the area, we also enjoyed tours of Boeing and Amazon. The students really enjoyed those activities, but as par for the course, "students are students, and people are people".
Here are some of my experiences that I wanted to share with you.
Interesting "adopted" English names:
In China, along with learning English and developing a desire to study abroad, many of the Chinese adopt an English name along the way (mainly because it's so hard for us Westerners to pronounce their Chinese names, and also it gives the Chinese a sense of assimilation and belonging to at least have an English name). Many of the names are taken directly from perhaps a favorite TV show, or a movie that the Chinese are knowledgeable about. Also, it's not uncommon for someone to "tire or become bored with their name, and change it at a whim ". A few of the interesting names that some of the students had in our group were;
– Star
– World Peace (he named himself after Metta World Peace, a recently retired NBA player)
– Panda (although she hated her name, and had recently changed it to Shirley)
Those are just some of the names in our group, but in my travels in China, I've come across such names as "Snow", "China", "America", "Sunshine", "Mercedes", "Homer", and of course, just about every "common American name" that you can think of. It's kind of cute in a way, as many times, because they don't get a chance to use their English name all that often, they forget what their English name is, and have to check amongst their friends to see what their latest English name is.
Burger King?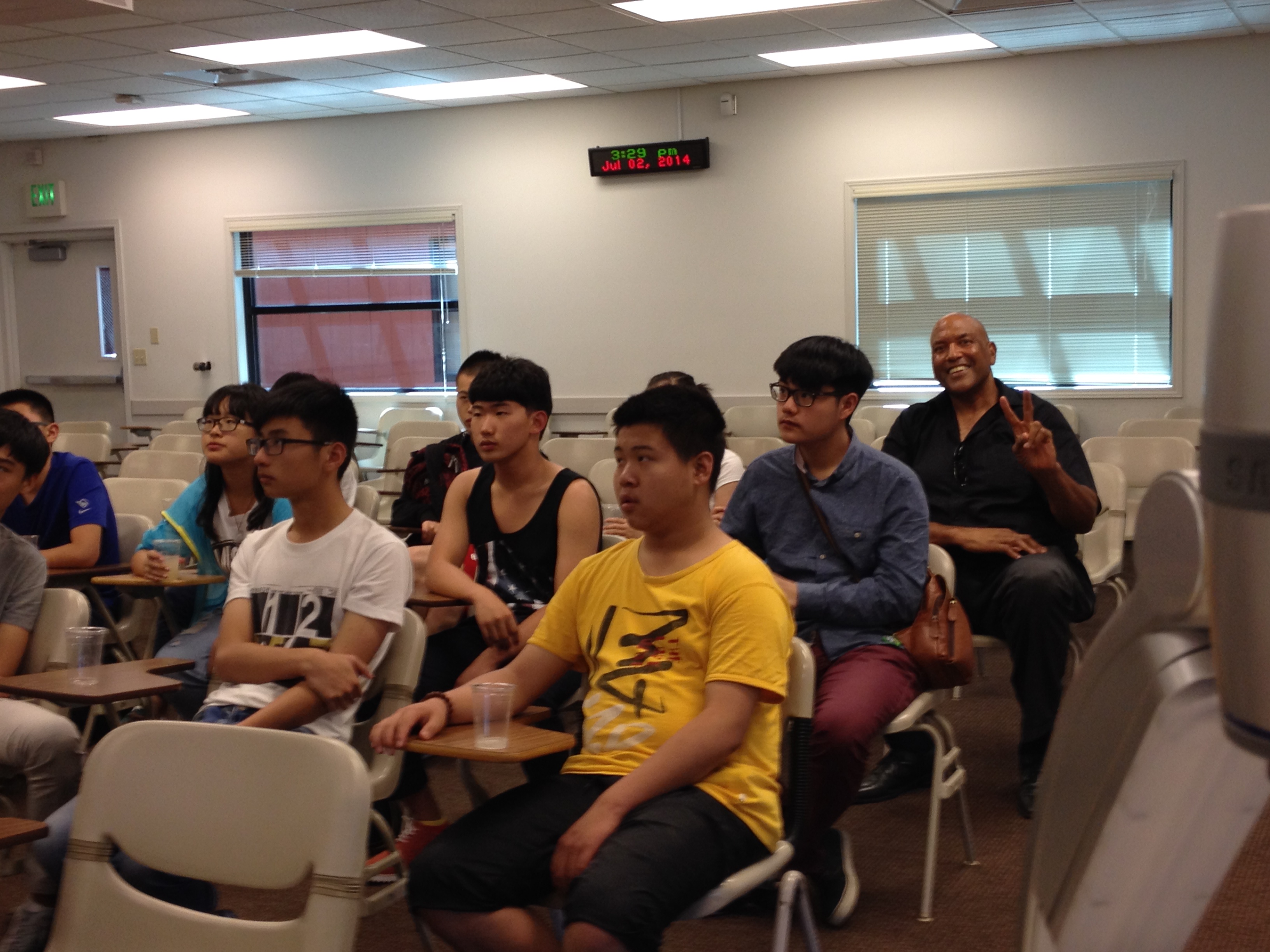 Being that these are high school age students, who are contemplating coming to the States to go to college, they are little more open and interested in eating American food, then perhaps their parent are. The day before I caught up with them, they told me that they had went out to an American restaurant, and I asked them which American restaurant they went to, and they told me all so gleefully…. "We went to Burger King!… We went to Burger King!!!"  I'm thinking to myself, "Burger King? They just have no idea of the vast array of variety of foods that we have here in America for them to sample and experience".
There are Burger King franchises in China, so perhaps, they went at least to a restaurant that they were somewhat familiar with, and that's about as far as they dared venture on their own. Of course, other American franchises are now in China, such as KFC (the most numerous of the Western franchises so far), McDonald's, Starbucks, Jamba Juice, and of course all of the high-end luxury stores as well.
I'll see if I can get them out to a "real American restaurant" before we wrap up our tour.
I Don't Want to Be Black
If you know much about Asian culture in the first place, you're probably aware that, especially for the ladies, they tend to prefer the "geisha girl" look that is probably most popular in Japan, but is pretty prevalent throughout the more affluent and upper class societies throughout Asia. Many of the people go to great extremes of keeping their skin as pale and light as possible (skin lightening creams and cosmetics are a huge industry in Asia) by staying out of the sun, covering themselves virtually from head to toe with clothing and wide-brimmed hats, carrying around little fashionable umbrellas, and/or holding up pieces of paper or cardboard to block the sun while they are scurrying across the street. There are some interesting photos online (I've inserted one for you to see) that you can find, of people on the beaches in China, covered in bodysuits from head to toe, except for little openings for their mouth, nose and eyes. It seems to work, I've got to admit, as most of the people in Asia have beautiful skin, and age very gracefully for the most part.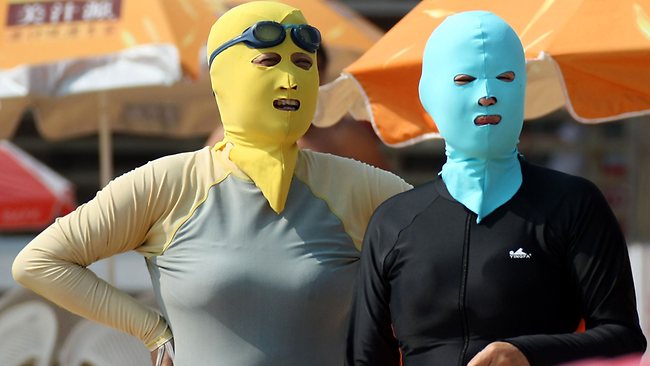 So, at one point during our stay here in Seattle, I took a couple of the students with me to run a couple of errands around Seattle, and even though it was 80° out, one of the young ladies was covered underneath a blanket while she was sitting in the passenger seat of my car. I asked her if she was cold, and she said, "no, I don't want to turn black." Of course, for me, who is an African-American, this was like a sucker punch to the gut for me to hear something like that, but I just had to take a deep breath and realize that, I think what she meant, was that "she didn't want to tan and become dark". At least, I'll go with that (if nothing else, it'll make me feel better… smiley face!), as I'm sure that she realized that I am an African-American person sitting right next to her.
But for my experiences in Asia, I do know that having dark skin, indicates that you are a "laborer or peasant" who has an occupation that doesn't pay well and you're forced to work out in the sun. If you have lighter skin, you probably come from a more affluent family, and a life of luxury.
No Matter What, Boys Will Be Boys
I really enjoy working with the Chinese youth and helping them with study abroad opportunities here in the USA, mainly because for the most part, I find them (1) high achieving, (2) highly motivated, and (3) low maintenance. In general, they strive to be at the top of their class, and getting good grades is the expectation and a priority.
But, teenage kids are teenage kids all around the world, and yesterday during one of our stops, one of the boys in the group took and hid the flip flops of one of the girls, and she was forced to walk around for a while barefooted. Of course, not only was she embarrassed, but she was getting increasingly angry. When she finally discovered the hiding place of her flip-flops, she flew into a rage in front of whole group, stormed over towards him, and belted him a good one right upside the head. He tried to retaliate in a very weak and feeble manner, and that was our big commotion for the day.
Seems to me, that universally, this is typically how boys show that they are interested in girls. Hasn't something like that happen to you during your adolescent years? Come to think of it, I did something stupid like that last week in from of a young lady I was trying to impress! LOL!) A couple of the other girls in the group came up and told me that some of the other boys continually pull on their ponytails, or punch them in the shoulder and start running away and other shenanigans. Sound familiar?
Amazon! What's that?
We had a wonderful tour of the Amazon campus right here in Seattle this week, and it was amazing how many of the students didn't know what Amazon was. Amazon has been in mainland China for several years now, but the consumers in China who do online shopping, have something many times larger to shop from, and that is the online giant Ali Baba.
We had a chance to learn a lot about Amazon and its fulfillment centers and delivery methods, but I think more than anything, what sparked the student's interest, was learning that if they obtain their engineering, technical and/or business degrees, that would be great opportunities for their careers in a place like Amazon. Especially considering that a starting salary here in America, would be many times that than what is available in China. At that point, they sat up and took notice!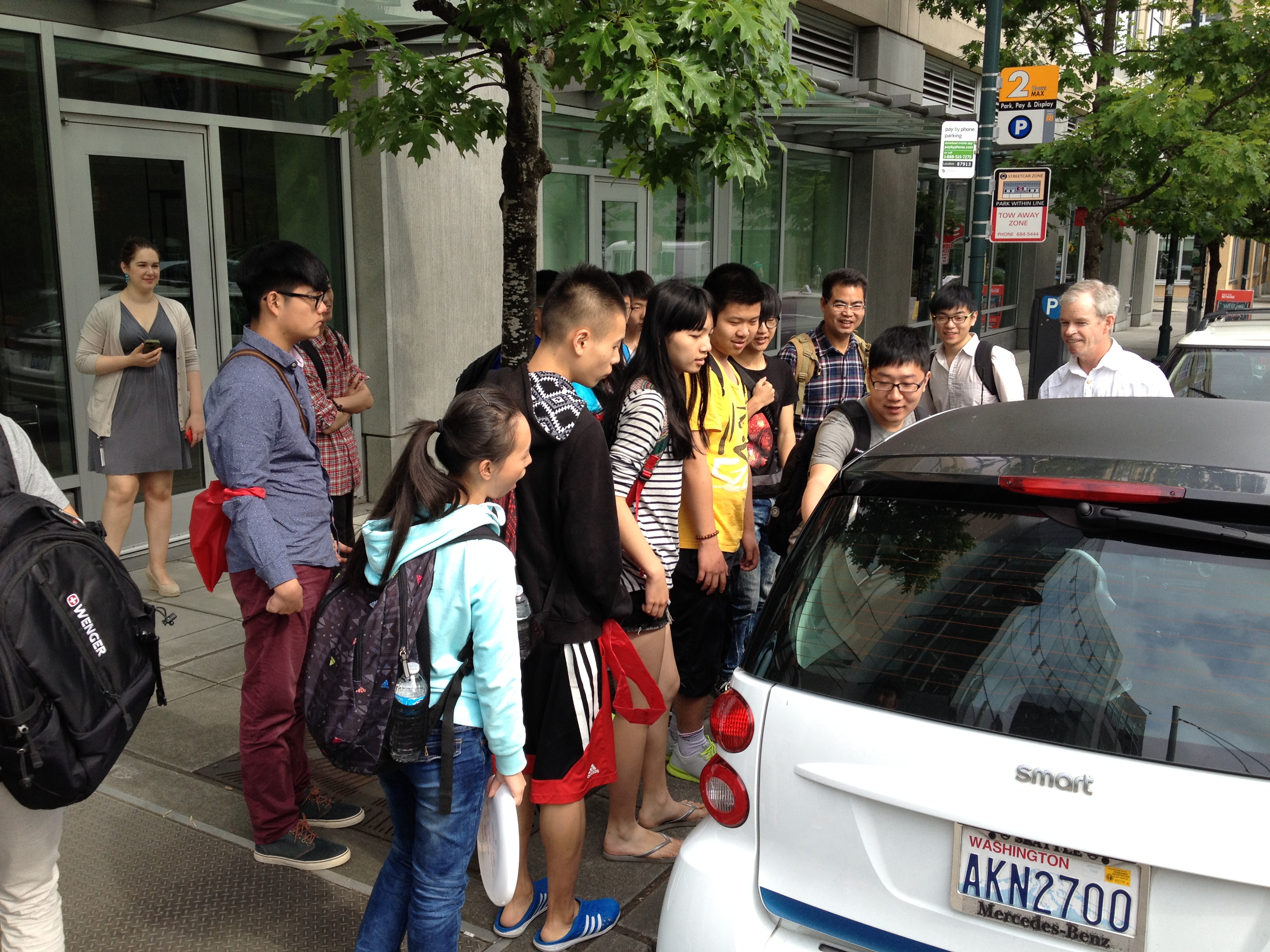 Anyway, those are just a few of the observances that I've been having this week in hosting/escorting a group of about 15 students to the Seattle area as they are looking at study abroad opportunities in the USA. Most of them are high school students, and will return to China to finish up their high school, then will return back to the States in a year or so to begin their higher education learning.
It's a wonderful opportunity to build relationships internationally, especially through youth and education programs. I also do a similar thing in building international relationships with youth and sports programs as well.
After the stop here in Seattle, the students will be on their way to Los Angeles and San Diego for another week of tours and experiences right here in the good 'ol USA.