http://www.audible.com/pd/Arts-Entertainment/Empire-Audiobook/B002VA9PVW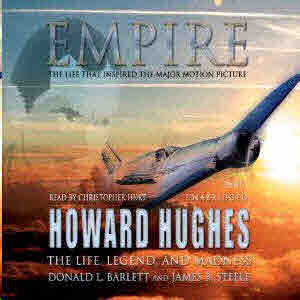 Fascinating, Fascinating, Fascinating!!!
I've read several books about Howard Hughes throughout the years, but this book by Donald Bartlett, tops them all!
The author takes us on an intriguing adventure that totally captivates you from start to finish. Hughes, as has been well chronicled throughout the years, was an intriguing, yet dashing figure and personality throughout the mid-part of the last century. When he was younger, he had the world at his fingertips, with movie starlets for girlfriends anytime he wanted, boatloads full of money, the ear of every influential politician of his era, and so much more.
It's an intriguing tale of what we may nowadays call "mental illness", which was fueled by addictions to painkillers and narcotics, psychosis, a mistrust of people in general, fear of germs and, finally, his own "inner circle" closing in around him and taken advantage of him while he mindlessly toiled away the days/weeks watching television butt naked as he eventually lost control of his empire.
The story did get a little tedious when the author went into probably a little bit too much detail, and some of the business dealings that Hughes was able to construct, but other than that, this text will keep you on the edge of your seat throughout.
I don't know if I learned anything new about the life and times of Howard Hughes, but this rendition of the story that is been told before, is by far the very best. A must-read for those who like mystery, intrigue, adventure, featuring one of the wealthiest and best-known personalities that this country has ever produced.
Excellent!!!