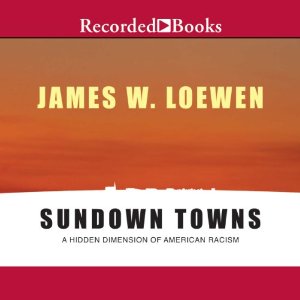 "Sundown towns" refer to cities and towns throughout America's 20th century (to current) where racial discrimination remains at a very high-level.
http://www.audible.com/pd/History/Sundown-Towns-Audiobook/B002V1BE10/ref=a_search_c4_1_1_srTtl?qid=1416724882&sr=1-1 
Most of them operated by tolerating the African-Americans and other minorities who may have frequented the towns during the day, but in essence, made life very difficult when the sun went down.
Most suburban town started out as "sundown towns". White only signs and mentalities were abundant!
Sundown towns were created by ordinances on the books, and by having "covenants" in place as far as properties and neighborhoods, inter-racial marriages, school segregation and political representation, etc.
The author offers this link to his website listing of hundreds of Sundown Towns that still exist today. http://sundown.afro.illinois.edu/content.php?file=sundowntowns-whitemap.html
This is one of the most detailed and thoughtful books I've read on issues of segregation and racial issues in United States, and throughout history. It still goes on to this day, and as I write this, our Nation is holding its collective breath as we await the verdict in Ferguson, MO in regards to a White police officer who shot and killed a young black teen in the streets of Ferguson (which would historically fit the description of a Sundown Town).  There have been several incidents of uprisings already, several shootings and a few killings in recent weeks.  Incidents of racial discrimination bubble right below the surface all across our Nation, and so much of it is because of the Legacy of Slavery, and unresolved racial tensions, plus dis-proportionalities in just about every measurable category possible.
The author gives numerous accounts of real interviews, and actual history of behaviors and perceptions that are persisted throughout America. Again, pointing out the great deal about inequality in America and specifically towards African-Americans and other minorities.
A great book that I just couldn't put down!  You'll enjoy it and be enlightened as well.