http://www.audible.com/pd/History/The-Slaves-War-Audiobook/B002V01ED4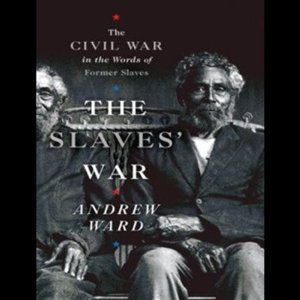 This is a collection of circa 1920's interviews that were conducted with actual slaves from the 1860s, who told their stories from personal accounts.
The author does a great job of rounding up these dozens of interviews, weave them into a narrative, and telling the wonderful story of the slaves perspective on the Civil War of that era. Fascinating reading, really insightful and you almost get the feeling that you actually were there during the experience.
Since many of the slaves were illiterate, and many others were forbidden to read or write if they were not illiterate, many of the slaves overheard the talk of the white slave-owners on the plantations, and were able to pass the stories along to their peers.
The author spent over 10 years gathering and researching the information for this book, checking and double checking his references, and came up with a very quality narrative and tome.