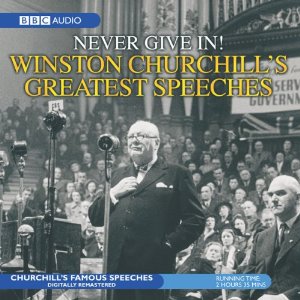 This was really an enjoyable collection of speeches made by Sir Winston Churchill. He was masterful and how he was able to continue to rally the troops of Great Britain and to keep their morale up in the face of the Nazi Germany regime.
Probably more importantly, he showed himself to be a compassionate leader by not seeking to totally annihilate Germany, but to bring them in line, and have them eventually join the European family that he spoke of.
Churchill spoke in his speeches many times about a "United Europe", and also a United Nations. He was instrumental in setting the pathway towards accomplishing those dreams.
Churchill will go down in history as one of the great leaders of the world wars, and is a much admired figure of Great Britain history.
http://www.audible.com/pd/Science-Technology/Never-Give-In-Audiobook/B002V0K41C