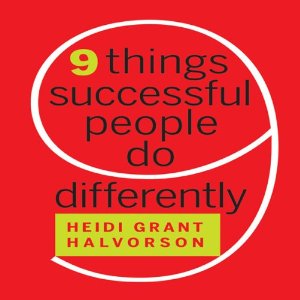 One – Get Specific
Two – Seize the Moment to Act On Your Goals
Three – Know Exactly How Far it is You Need to Go
Four – Be a "Realistic Optimist"
Five – Focus on Getting Better, Rather Than Being Good
Six – Have Grit and Determination.
Seven – Build your "Willpower Muscle"
Eight – Don't Tempt Fate.
Nine – Focus on What You Will Do, Not What You Won't Do
This book is a quick read and a step-by-step approach to success.  The author, list nine easy-to-follow steps/things that successful people do differently, and better than non-successful people do.
Probably overall, this is nothing that you haven't heard before, but it's nice to have a refresher from time to time, to remind us to keep on that pathway of success, and to keep pushing ourselves a little harder towards our goals, a little longer, and success will be ours.
Now that the New Year is upon us, and visions of "New Year's Resolutions" are dancing in your head, this would be a quick, easy, reminder of a book to possibly motivate you to "up your game", and be a better you for the coming year.  It's pretty straightforward and easy to do, but, just like trying to lose a few pounds, it does take determination, focus and a "can-do" attitude.
Treat yourself to this great book, and have a great year!
http://www.audible.com/pd/Business/Nine-Things-Successful-People-Do-Differently-Audiobook/B0072KJCJQ