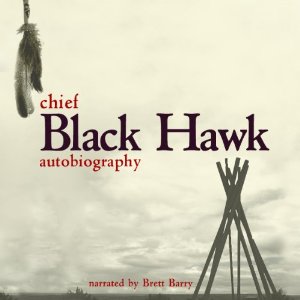 I really enjoyed this autobiography of Chief Blackhawk book, as it's all about the wonderful story about Blackhawk, and a lot of his experiences in dealing with the white American settlers.
Black Hawk was a Native American, a tough leader of the Sauk tribe who led his people in battles against the U.S., with the British in 1812, and other skirmishes. Starting with his birth, in 1767, up through his imprisonment in later years and eventual return to his people, this book details his life and views on America. He tries and fails to rectify the harm done by the signing over of the Sauk land, in 1804, under questionable auspices. Brett Barry's performance of this autobiography is measured and deliberate just as Black Hawk's own tone has resolve without anger when he cites the white man's own religion and its principle of "Do unto others as you would have them do unto you".
The book made good references in regards to some of the cultural nuances that were at play between the white settlers and the Native Americans.
Black Hawk could foresee the way things were changing, and we're going to be for his people in the future, he made no bones about it, and was never victimized by it, but instead remain a proud Native American.
http://www.audible.com/pd/Bios-Memoirs/The-Autobiography-of-Black-Hawk-Audiobook/B004RR8M1Q/ref=a_search_c4_1_1_srTtl?qid=1417395051&sr=1-1