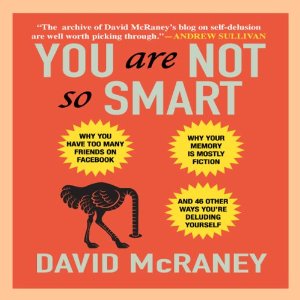 This is an entertaining illumination of the stupid beliefs that make us feel wise.  We all like to walk around acting as if we knew something all along, something that others don't know, or that we're the "smartest person in the room". It's part of our ego that helps us to compete and survive. You believe you are a rational, logical being who sees the world as it really is, but journalist David McRaney is here to tell you that you're as deluded as the rest of us. But that's OK – delusions keep us sane. You Are Not So Smart is a celebration of self-delusion.  The author has fun going into each topic, and elaborating on them to help us see that we all have these various tendencies, and as the title says, "We Are Not so Smart".  It's like a psychology class, with all the boring parts taken out, and with no homework. Based on the popular blog of the same name, You Are Not So Smart collects more than 46 of the lies we tell ourselves everyday, including:
– Cognitive bias: A predicted pattern of behavior leading to conclusion, many times the "wrong conclusion". Cognitive bias reached information often leads to poor decisions and choices. We tend to believe what we already know, and ignore what we don't know. This is called, "confirmation bias".
– Hindsight Bias – You often look back on the things that you thought you knew, swear that you knew them all along.
– Brand Loyalty – you prefer the things you own because you can rationalize your decision to purchase them, and then protect this sense of self.
– The Argument for Authority – your decisions many times influenced by people you respect or in authority.
–  "The Public Goods Game" – Without some sort of system of laws and rules in place, bad guys and bad people will take advantage of society. People don't just contribute to the overall public good, just because.
– "Group-think" – trying to get along and avoid confrontation leads a lot of times to joining into groups and thinking alike.
– "The Spotlight Effect" – you think that you're in the spotlight and people are always noticing you, but the truth is people seldom notice you as much as you notice you. They also tend not to pay attention to the things that you make a big deal out of it, because they're paying attention to themselves.
– Self Handicapping – you often put yourself in a position of failure in order to protect your own ego.
– The Consistency Bias – unless you constantly keep tabs on yourself, you assume that you have always been that way you are, and you think the way that you have thought.
Overall, I found it to be a next lead read, and I really enjoyed being able to look at the various attributes at all of us possess, and cause us to think that we are a lot smarter than we actually are.
Fantastic book!
www.audible.com/pd/Nonfiction/You-Are-Not-So-Smart-Audiobook/B006K4GN56