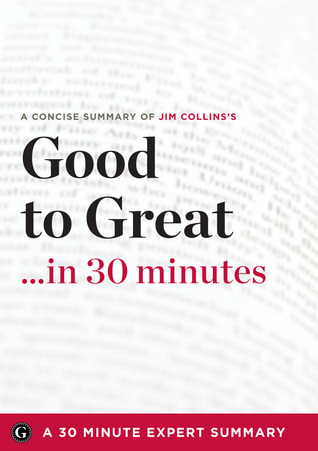 A great read!  Here are some excerpts that I wanted to share with you.
Chapter 4: Confront the Brutal Truth, Yet Never Lose Faith.
– Good to great companies confront of the truth, face reality, and make hard decisions in order to survive and keep moving forward.
– Good to great companies succeed by asking questions, and not just by making pronouncements.
– Good to great companies foster an environment of truth, which will help them to deal with the realities surrounding them, and continue to grow from the lessons.
Chapter 5: "The Hedgehog Concept", simplicity within the three circles.
– Good to great companies are like hedgehogs, when confronted by the fox. The hedgehog will curl up and protect itself, and basically do one thing well, while the fox tries many different strategies in order to exploit the hedgehog.
– Hedgehogs tend to keep things simple, and do the one thing well very well. Good to great companies need to adapt some of those tendencies, and stick to what they do best.
– Knowing that a company cannot be the best, is just as important as knowing that the company can be the best. Stay focused on what you do the best.
Chapter 6: A Culture of Discipline
– Good to great companies create a culture in which there is a great sense of responsibility, and freedom of creativity, the focus is true to doing what is best for the company.
Chapter 7: Technology
Chapter 8: "The Fly Wheel" and "The Doom Wheel"
– The transformation from good to great doesn't happen overnight. But, like a fly will, once you begin the momentum in the direction you want to go, it becomes easier and easier. Of course, if you
begin the momentum in the wrong direction, it becomes easier and easier to stay in that direction as well. Make sure you know the direction you're heading is the correct direction.
– If you can spin the wheel in the right direction, you will achieve breakthrough.
Chapter 8: From Good to Great and Built to Last.
– Once a company has achieved greatness, what does it take to help it sustain that level?
I thought this book was right on point with a great recap of Jim Collin's groundbreaking Good to Great best seller! As a small business owner myself, I realize the importance of creating an environment in which your team can prosper, and be successful. It's all about win-win. And great leadership!
Looks like "Good to Great" constantly reinforces the work that needs to be done on both the leader and on the team as well.