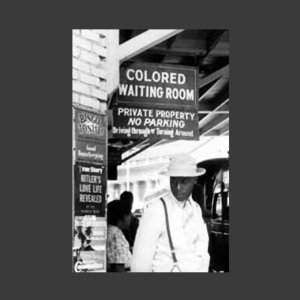 Jim Crow was in effect for about 80 years and affected everyone throughout the States, especially in the South.
Here are a couple of examples pertaining to "State Law".
– North Carolina: school textbooks not to be interchangeable between white and black schools.
– Mississippi: the marriage of a white person with a colored, Negro person shall be "null and void" and the marriage will not be considered legitimate by
law.
The term Jim Crow was first used back in the 19 century pertaining to menstrual shows where white performers performed with black painted faces.
Jim Crow ruled the South well into the 1950s and 1960s.
A lot of rules pertaining to Jim Crow were "unwritten laws", and could be interpreted any which way they wanted in the court of law, if that's where it ended up. Many times it was interpreted and dealt with at the community level.
Such unwritten laws as the following were very common:
– blacks living in a white home, had to use the back door.
– If a white employer was driving his black maid home, she had to sit in the backseat.
– Blacks were never supposed to contradict white people.
– Under no circumstance, was a black man allowed to show interest in a white woman.
– White men routinely had Black women as mistresses, typically the small houses
outside of their big house is where he would "keep" his mistress.
Police and mob violence was used to shutdown black voter participation, and registration, throughout the South in the early 20th century.
Many times lynchings would become a "community affair" an "event" for people from the community to come out, and set up a picnic to watch a public lynching.
An excellent short overview of the era of Jim Crow. I learned a lot just in these short excerpts about Jim Crow from listening not only to the facts, but also to the live interviews inserted in the book with both white and black people.
There are many variables that play into the ongoing struggle of blacks in America even today. Not to mention, poverty, not a lot of emphasis on education, broken dysfunctional families, etc., but the legacy of Jim Crow continues to linger on probably more so than anything. It's created a mindset/brainwash conditioning of one people versus another that continues on to this day.