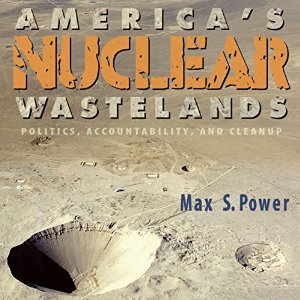 Well, this book was a little outside of my scope of interest for the most part, but I still was able to learn a few things about the nuclear wasteland industry that's going on in America.  The book deals with a lot of the politics and legislation, of trying to get these facilities located in certain areas of the country.
By the end of the Cold War, 45 years of weapons production and nuclear research had generated a sobering legacy: an astounding 1.7 trillion gallons of contaminated groundwater; 40 million cubic meters of tainted soil and debris; over 2,000 tons of intensely radioactive spent nuclear fuel; more than 160,000 cubic meters of radioactive and hazardous waste; and over 100 million gallons of liquid, high-level radioactive waste.
It also deals with the radioactive fallout in the neighboring areas where these nuclear reactors are located as radiation gets into the food, water supply and the environment.
Truthfully, my interest might have been a little bit higher in the topic, if it had been about nuclear bombs and nuclear arsenals.  But, nuclear wastelands are just as important in our world today that we live in.