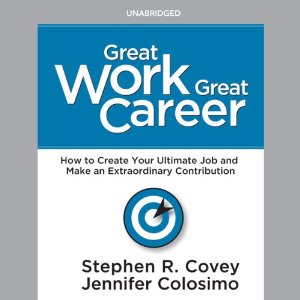 In this book, "Great Work Great Career.", The authors want to make sure that you have a passion for what you do in life. It is not enough to have a passion (after all you have to find someone who will pay you for your passion), but also you have to realize that in today's technological world versus the industrial world of the past, the power you harness is in your head. It is your intellectual know how that will be most important to you nowadays.
Be true to yourself, and have a good sense of who you are as a well-rounded whole person. This will help you to find career opportunities that are much more suited to you, rather than being miserable in a job that is not suited to you.
Do you know that if you can become a "problem solver", and not be a problem, this will increase your value to your employer?
Being a "rudder", which is what steers the big ocean liners, is something that will give you tremendous importance. In order for big ocean liners to turn, they have to turn the whole ship, and the rudder helps to accomplish that much more easy and efficient manner.
Create a "confirmation statement" of what you can contribute to your new employer. Make sure you at least have this in your head when you go to have interviews with potential employers.
Take a look at yourself, and find the best you, you can possibly be.