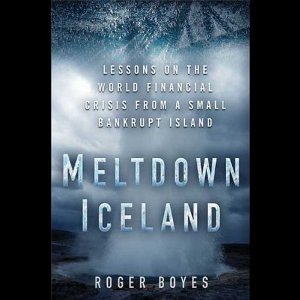 In this book, "Iceland Meltdown", it is described about the global economic crisis, especially the housing crisis of the past decade or so.  The book opens with a quote, "when America sneezes, the rest of the world gets a cold, and when America has pneumonia, the rest of the world gets seriously ill".  That's all economically speaking of course, because America's economy is the strongest in the world, and when it falters, it has great economic impact on economies around the world.
Iceland was one of those European countries that was not able to escape the economic downturn, and what the rest of the world went through.  All European countries were affected, and the developing world also felt a chill. However it was Iceland, a tiny volcanic outcrop in the North Atlantic whose population of 300,000 had the highest GDP and counted itself the happiest in the world, which caught the worst cold.  Most European countries suffered a great impact negatively from the economic crisis, but Iceland almost got virtually wiped out.
It's not that I never paid attention to Iceland or its economic situation, its culture or people, but I found this book still very interesting, and it also helped me to realize that the global reach that the American economy has around the world.  If it can happen in a developed country like Iceland, you know the impact it had on Third World countries as well.