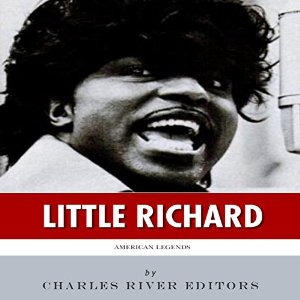 Book summary: wearing women's clothing, and makeup, and having a bigger than life personality, this book talks about how the superstar persona of "Little Richard" became one of the pioneers of rock 'n roll back in the 1950s. He befriended the likes of James Brown, Elvis Presley, Mick Jagger and the Rolling Stones (in which he was often an opening act in Europe), and Nat King Cole. Little Richard was instrumental in the shaping of rock 'n roll's early days way back in the 50s and the 60s. He often struggled with his own personal "demons" being that he was raised in a strict Baptist family down south, and then went off to play secular music, and then returned to the pulpit to become a preacher/evangelist, only to be drawn back into the secular world after a decade or two.
Now in his 80s, Little Richard still can be seen and heard as a pitchman for various products and commercials from time to time.
This short biography was about Little Richard and his impact and influence he had on the rock 'n roll scenes in the early beginnings. With his outrageous personality on the stage, dressed in effeminate clothing, makeup, wild hairdos and plan a vicious piano rift, Little Richard set the stage for lot of other "larger-than-life" personalities who would follow after him, especially in the music scene.
The book doesn't go much into his own personal life (i.e., personal family situation, marriages, children, etc.), but it does talk about his upbringing in the deep South with a very strict and religious family.
A very good book for those of you who enjoy music, especially the history of music and the great personalities who helped shaped our music scenes throughout the decades.