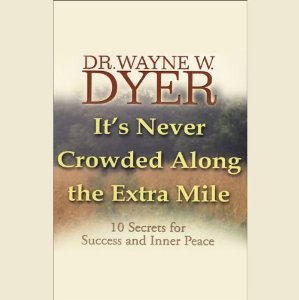 In this wonderful book, It's Never Crowded along the Extra Mile by Wayne Dyer, the author, goes to great lengths to talk to us and explained to us that by being able to go a little further, than most others, we will find ourselves on a life journey that is so much more fulfilling, rewarding and enriching not only to ourselves but to others.
The author uses some of the great teachings of St. Francis of Assisi, Jesus Christ, Nelson Mandela, Mother Teresa and Buddha. All of them have shared with us lessons and how to live a more fulfilling and rewarding life.
The author shares with us 10 steps on how we can strive to have more success and inner peace.
Here are a few of them:
• By clearing out preconceived notions and allowing a higher functioning of the mind, you'll begin to attract what you really want and manifest the "symptoms" of inner peace. 
• When you're open to will everything and attached to nothing, you'll learn that you don't need to evaluate yourself based on money or fame. 
• By giving up your personal history, you're freed from the concept of failure and can connect with God in the here-and-now. 
• You can't solve a problem with the same mind that created it. Any limitation can be transformed with the intention to manifest. 
• Every great artist and thinker has been able to find insight and creativity by reaching a higher energy. Anyone can access this energy—it's only a thought away! 
• We're all connected to God. When you "tap in to" this connection, you can access intuition, see the universe as one, and understand that you simply have to align yourself with what you want in order to bring it into your life.
This is one of the best books I've ever read, and I try to apply as much of it to my life as possible every single day.