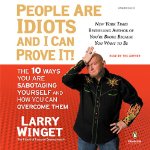 In this book, author Larry Winget spells it all out for us in an easy to understand manner as to why "People Are Idiots and He Can Prove It".  It's a humorous, insightful, sometimes hard hitting, straight to the point look at how people are their own worst enemy as to why they often don't achieve what is possible.
I had a lot of laughs, but at the same time, I realize that I know so many people like who he is talking about, and that's kind of sad.
He gives 10 reasons as to how people are sabotaging themselves and what we can do to overcome them.
Check out his list of 10 things that we are doing to sabotage ourselves:
– people are ignorant
– people are stupid
– people are lazy
– people don't give a damm
– people lack vision
– people have low expectations
– people don't recognize the consequences of their actions
– people have bad habits
– people have poor role models
– people have no plan
I think that if we're able to take a look at this list (and see ourselves in the list) then we'll be able to address the excuses that we make for ourselves and get ourselves in gear to be so much better.