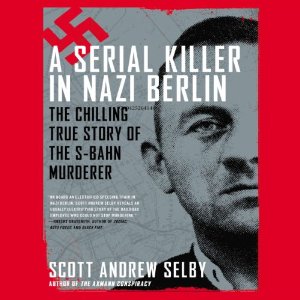 This was a fascinating account of an actual serial killer who was on the loose during World War II, when the Third Reich of Nazi Germany was in total control of Germany and on the verge of conquering Europe.
The serial killer, was a model German citizen, a family man, party member and actually a sergeant of the infamous "Brownshirts". So, there was no great reason to bring a tremendous amount of scrutiny upon himself, but there was a dark side to him, and that he loved to harass and frighten women (and the book they trace it back to his childhood of being dominated by women), and he took to the dark alleyways of Berlin. Frightening and harassing women, eventually physically attacking them, raping and then murdering the women and also throwing them off of moving trains.
It was a great crime drama of the 1940s, and even though the Nazi regime tried to keep it "under wraps" it still elicited a great sense of terror among the various communities of Berlin.
A great crime drama if ever there was one, I really enjoyed reading this book, as it kept me captivated throughout.
Highly recommended.