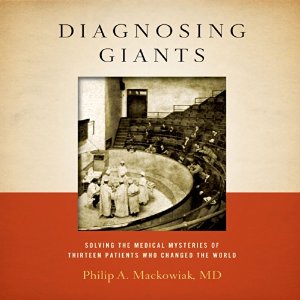 This was a very interesting book to read and to learn about some of the great figures of history, and how they died, and how history might have been different if they had managed to live a little bit longer.
Author, Dr. Mackowiak, research is the circumstances that surrounded the deaths of 13 historical figures, such as, Abraham Lincoln, Stonewall Jackson, Caligula, Buddha, Charles Darwin, John Lenin, Eleanor Roosevelt and several more. Most of these people, we may have an idea of how they died, and the circumstances that surrounded it, but the author, takes us one step further and examining the medical practices of the day, compared to the medical practices of today, and how their lives may have been saved, and the course of history would've taken a different course.
Of course, it's all hypothetical, but, if you use your imagination a little bit, you'll go along on an enjoyable ride throughout history, reliving the lives of these great historical figures, who, set the course of history, but guess what, history just might have been a little bit different if events played out just a little bit differently.
If you like history, you're really enjoy this book, and if you like suspense and drama, you'll enjoy it even more.