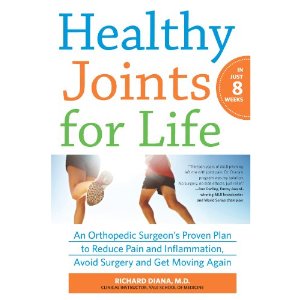 As a former professional athlete myself, and being athletically inclined since high school, my knees and joints have taken a lot of wear and tear and pounding over the years, and boy, on some days I really feel it. But, for the most part, my joints are in very good shape still, even as I am in my late 50s now, and after at least 25 years of high school, collegiate and professional basketball, I'm doing pretty good, especially compared to a lot of my comrades.
This is an excellent book for not only the athlete, but for all of us "baby boomers" who start to feel the years take its toll on our backs, hips, and joints.
Dr. Richard Diana, a former NFL player for the Miami Dolphins, really puts together a great book to help us understand some simple procedures we could take in our everyday life, to help alleviate the pain and stiffness in our joints, and get ourselves moving again.
One reason a lot of us dramatically slow down as we had our 50's, is because of the pain that is caused when we exert ourselves too much. So, instead of getting out there and jogging like we did in our 30's, we opt to start doing nothing, which is the worst thing to do as we get into the second half of our lives.
Dr. Diana shows us that with proper nutrition, exercise, nutritional supplementation, and just continued moving, will help our knees and our joints to fill so much better than they have for decades. He points out that inflammation is one of the big culprits in causing the pain that our bodies feel as we age. Medication does nothing more than to mask over the symptoms, and sure, decrease the pain, but the symptoms and problems are still there.
Dr. Diana goes another direction and talking to us about nutrition, eating the proper foods, having a healthy diet, exercise, and we can avoid a lot of the stiffness, inflammation and soreness that comes with an older body. I can testify to this myself, and the fact that I've been a vegetarian for over 30 years, and so just by passing on a lot of the meats and saturated fats that will accumulate in your system over the years, and cause joint pain and damage, I've been able to basically stay relatively, "pain-free", and still be able to do my daily exercises, as well as some light jogging and moving about every day.
I'm not saying that you need to be vegan or vegetarian in order to have a healthy body, but, it definitely helps, and it can't hurt. Also, staying away from the junk foods, too much sugar, too much salt, too much carbonated drinks, so to modify all those things, and to eat more healthily will definitely help you down the long run.
Overall, the years of me being a competitive athlete, I've only been subject to one knee surgery throughout all those years, and that was just a freaky, overuse, situation, and finally caught up with me, and my patella tendon ruptured in my right knee, causing me to sit out about eight months and have surgical repair. But that was almost 30 years ago, and even to this day, my surgically repaired knee gives me absolutely no problem.
So, take it from an orthopedic physician, Dr. Richard, Diana, who used to be a competitive athlete, just like myself, and listen to his sound advice, and avoid the possible surgeries and joint replacement surgeries you may need in your elder years.
If I didn't "live it and see it every day" in my own life, it would seem a little far-fetched, that just by having a healthy lifestyle and a healthy diet, you can slow down greatly the wear and tear on your joints. But I'm a believer, and I'll keep doing what I do throughout the rest of my life, and hopefully can stay active well into my 80's.
All of us "baby boomers" should take a look at this book and pick up some great tips to help us keep going a lot longer.