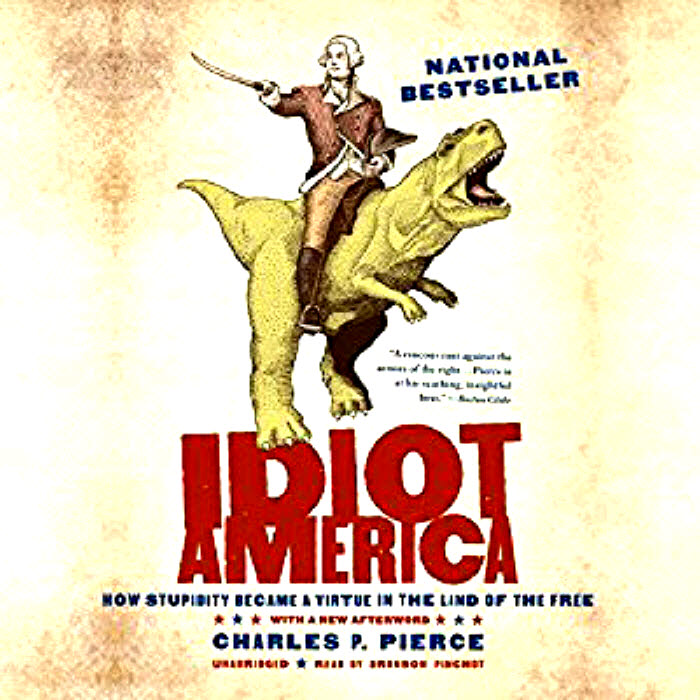 This was an interesting book, hilarious at times, in which the author, Charles Pierce, literally pokes fun at some of the myths, folklore and long sustaining beliefs that have made of this country.
Of course, it's easiest to make fun of the conservatives for the way that they tend to want to "conserve" the way things have always been, and to go back to "Make America Great Again", but I feel the author takes equal opportunity with such topics as religion, cultural beliefs, and just "humans being humans.
The book opens with an interesting look at the "Creationist" folks, who believe that the earth is only about 5000 years old, and actually have a "Flintstones style" themepark here in the USA, where models of dinosaurs are actually wearing saddles, and human beings living alongside those very same dinosaurs. Of course, any of us to know anything about evolution, will feel that's totally ridiculous, but there are people out there actually believe it.
I guess if we take a look at our own ingrained beliefs, we can examine a couple of them a little more closely, and determined that even some of the beliefs that we hold dear, are a little silly, when we start to apply any type of scientific experiments or double-blind tests to them to see their validity.
Myself, being a Christian, really want to believe all of those ancient biblical stories and miracles that supposedly took place, but, I guess that's where we go into the realm of "faith" and even though we can't prove those things, we rely on them to be true.
This wasn't the most serious of books, a little bit "trashy" in nature, but still an interesting look at how and why people believe the way they believe.
Enjoy it for what it's worth!