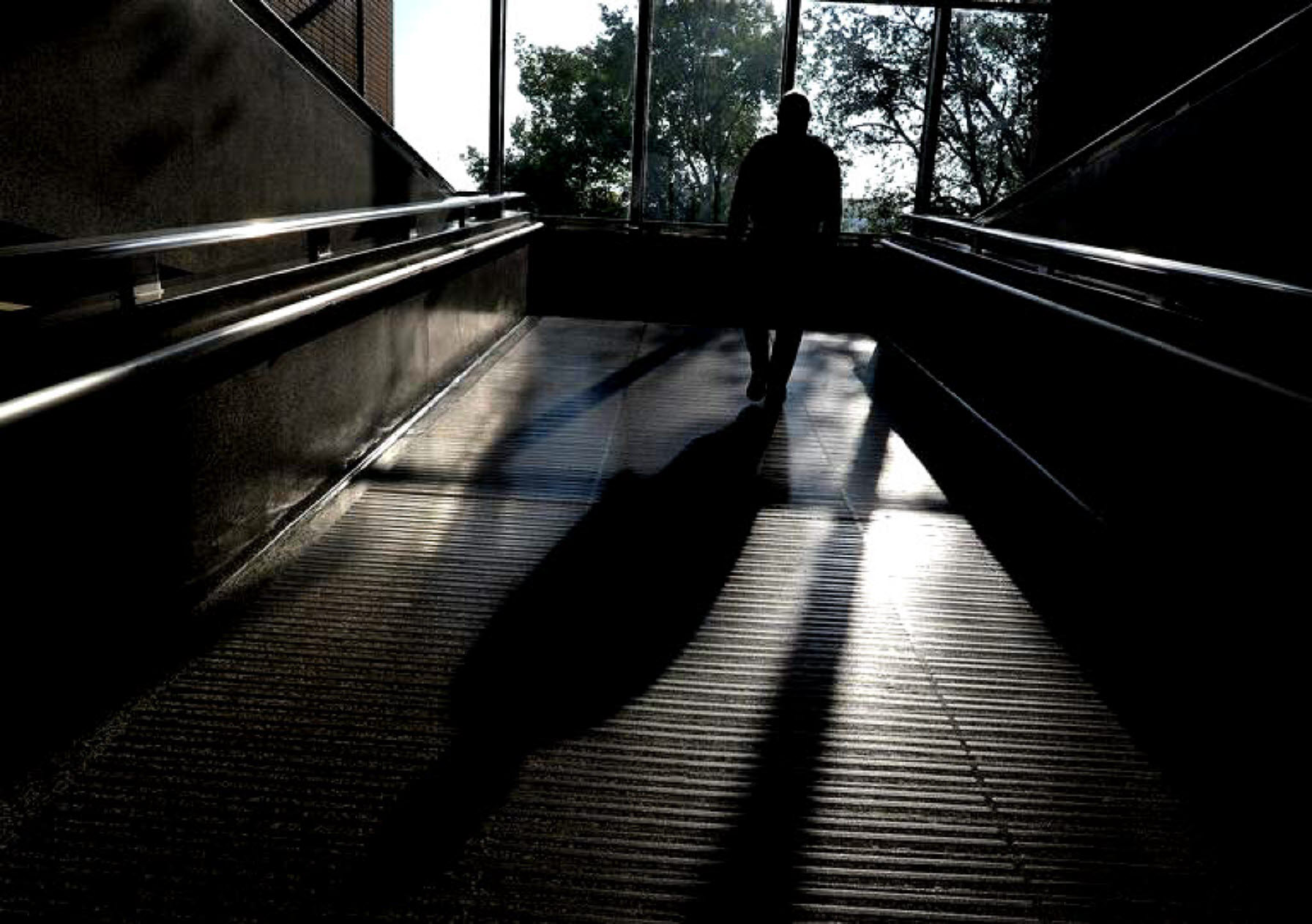 James Donaldson notes:
Welcome to the "next chapter" of my life… being a voice and an advocate for mental health awareness and suicide prevention, especially pertaining to our younger generation of students and student-athletes.
Getting men to speak up and reach out for help and assistance is one of my passions. Us men need to not suffer in silence or drown our sorrows in alcohol, hang out at bars and strip joints, or get involved with drug use.
Having gone through a recent bout of depression and suicidal thoughts myself, I realize now, that I can make a huge difference in the lives of so many by sharing my story, and by sharing various resources I come across as I work in this space.  http://bit.ly/JamesMentalHealthArticle 
The off-duty killer: Suicide has become an occupational hazard for police officers
Hernandez has spent the past seven years of a 35-year career at the Fresno Police Department connecting officers in personal crises with mental health services. He estimates that every year at least one law enforcement officer somewhere in the central San Joaquin Valley takes his or her life.
"I don't think we realize how much tragedy and darkness and evil is out there – and that just wears on you," he says.
Police officer suicide is not widely talked about. Publicized deaths of officers mostly are of those who have died in the line of duty, but suicide takes more police lives nationwide than the number killed while on the job. In 2017, there were 129 officers in the U.S. who died in the line of duty in contrast to 140 officer suicides, according to the Ruderman Family Foundation, a nonprofit organization that works to increase awareness about mental health.
For those who have studied police officer suicide, the number of deaths is not surprising. If anything, they believe police suicides are undercounted, saying many instead are classified as accidental or undetermined deaths.
Suicide is almost an occupational hazard of law enforcement, they say.
Mental health issues, such as depression and post-traumatic stress, are common with officers who are exposed to dangerous and horrific events on a regular basis. So is medicating those mental health problems with alcohol. Many officers who are in mental distress are reluctant to ask for professional help. They can fear losing a job or a chance at advancement in their career, if they speak up. And they can feel embarrassed to admit they have a problem that they are not tough enough to take care of themselves.
"There's a deeply rooted stigma against mental illness, but it's especially pervasive in the professions that prioritize bravery and machoism and putting others before yourself," said Miriam Heyman, co-author of the Ruderman study.
Retired officers have died
There are 10 deceased officers and a police dispatcher on the piece of paper that Hernandez has in his hand. Ten died of a gunshot; half had been drinking around the time of suicide. That mirrors statistics by the National Police Suicide Foundation, which says over 89 percent of police suicides are done with a handgun and alcohol is a factor in over 85 percent of the deaths.
Eight of the officers on Hernandez's list were retired when they killed themselves. Retired officers no longer face the daily trauma that active officers experience, but they, too, are susceptible to suicidal thoughts, says Robert E. Douglas Jr., executive director and founder of the police suicide foundation. Police work had been central to their identity. In retirement, they can feel rudderless. And officers who are forced to leave law enforcement because of an on-the-job injury can be angry at being forced out of a career and ill-prepared for retirement.
Hernandez doesn't share names of the officer suicides, but affirms that his list includes Marty West, a former Fresno police captain who died Nov. 12. West, 63, did not die of a self-inflicted wound. But he had attempted to take his life shortly before he was fatally shot by a Fresno police officer.
West's death has rocked the Fresno police community. Chief Jerry Dyer and Hernandez met with retirees to talk about how West died.
West had a long and respected career at the Fresno Police Department. He began with the department at age 19 and became a patrol officer, field training officer and night shift detective. He was promoted to sergeant in 1980; he became a lieutenant in 1986 and a captain in 1994. West helped develop several police programs, including Citizens on Patrol and the Help Eliminate Auto Theft (HEAT) team.
He was chief of police in Oakdale, a city east of Modesto, for five years before retiring in 2012.
Dyer, who was related to West by marriage, says West had been experiencing mental health problems. He had sought help and was under a doctor's care. West's family and even neighbors were trying to get him the help he needed. They had removed weapons from his home.
According to the report by police after West's shooting, two officers had responded to a call from a home about a man with a history of mental health issues and who might try to kill himself. When the officers arrived, the door opened and they saw a pool of blood. West came at them with a knife with a 12-inch blade. An officer fired a Taser, but the prong hit West's belt. West kept coming toward the officers, and an officer fired twice.
Dyer says the official cause of West's death will be from a gunshot. "But we know that there was an attempt on Marty's part to take his life … the fact he tried to cut his throat."
But the chief does not use the term "suicide by cop" – the act of confronting police to be killed by officers – in describing West's death. "What we don't know is what caused him to charge at the officers while armed with a knife," Dyer says. "It's difficult to get inside the mind of a person who is suffering from mental illness and to try to say this is why they did what they did. I don't have that ability."
In the line of fire and trauma
Research about police officer suicide sheds some light on the stresses officers experience and how those stresses affect mental health.
The Ruderman study cited one survey of 193 police officers from small and midsize police departments that found officers on average had witnessed 188 traumatic events in their career. Among the critical incidents reported by the officers were being shot at, being seriously beaten and being threatened with a knife or other weapon. They also reported responding to horrific scenes, including decaying corpses, badly beaten children, sexually molested children, sexually assaulted adults and animal neglect or torture.
"Their brains are having to process things that no human eye should ever see," Dyer says.
In Fresno, police officers who have gone through a critical incident are sent to a stress management debriefing and are required to see a psychologist; they also can have time off. "We try to get them the help that they need to process that incident," Dyer says. "The most important thing that we can do when we go through any type of crisis is to talk about it."
Dyer says several years ago he recognized the level of stress officers are under and created Employee Services to encourage them to seek help on their own. The department also has a program that allows officers to anonymously refer fellow officers into a program called SAVE (Structured Assistance for Valued Employees).
Officers who need help should not be afraid to ask for it, Dyer says. "If an officer is feeling that if they seek help that they may lose their job, we want to ensure them that's not the case. That it's OK to seek help. That we're not about trying to end their career.
"We're about trying to save their career."
Hernandez, the person who has been in charge of Employee Services, says confidentiality is key to earning the officers' trust. He points at the glass door to his office, which has been blacked out for privacy. Officers have reasons for wanting privacy. They fear a 5150 commitment (determined to be a threat to themselves or others), which would prohibit them from carrying a gun, he says.
Officers who come to Hernandez in distress are careful not to mention suicidal thoughts. "But they do mention, 'Hey, I need some help. What are our benefits?' "
About 11 years ago, Hernandez started a Life Challenges group for first-responders that is based loosely on a 12-step support program. Those attending talk in confidence about drinking, family issues, marital problems – anything they want to share. But there, too, officers are reluctant to disclose suicidal thoughts. Instead, they will drop clues about being depressed or feeling hopeless that are calls for help, Hernandez says.
The need for support groups in law enforcement increasingly is being recognized.
At the Fresno County Sheriff's Office, 18 people have been trained in suicide prevention for a peer support program. Lt. Kevin Lolkus is in charge of the support group for enforcement. He cannot recall a sheriff's deputy suicide in the 20 years that he has been working in Fresno, but Lolkus says, "we're trying to get ahead of the ball and not have a tragedy."
Hernandez, 57, who retires from the police department Dec. 3, is turning his attention to police officer retirees. They are as reluctant to ask for help as active officers – and for some of the same reasons. A lot of retirees have their guns from when they were working, and they don't want them taken away if they divulge that they need mental health care.
As a volunteer, Hernandez plans to get police officer retirees together on a regular basis. He anticipates it will take him time to adjust from being an active officer to retiree. He will miss the Employee Services job, where he has built trust with officers. And he says that any time a police car passes with lights flashing and siren blaring, his heart will beat faster.
Jesus Cerda, a Fresno officer with patrol experience, is stepping into the Employee Services position at the department.
Dyer, who has been chief for 17 years and himself is looking at retirement, says he wants retirees to continue to have a sense of belonging at the police department.
"Being a police officer is not what we do. It's who we are," he says.
"Sometimes a (retired) officer can feel they're no longer of value. They're not worthy. They have no purpose," Dyer says. "Even with officers who are nearing their end and are going to retire, that's worrisome."
It's important for active officers and retired officers to know that it's OK to get mental health care, Dyer says. "People who seek mental health help are not weak. They are people who need help."
Suicide prevention resources
National Suicide Prevention Lifeline: 800-273-8255
Badge of Life: www.badgeoflife.org
The International Association of Chiefs of Police: www.theiacp.org
Suicide Prevention Resource Center: www.sprc.org