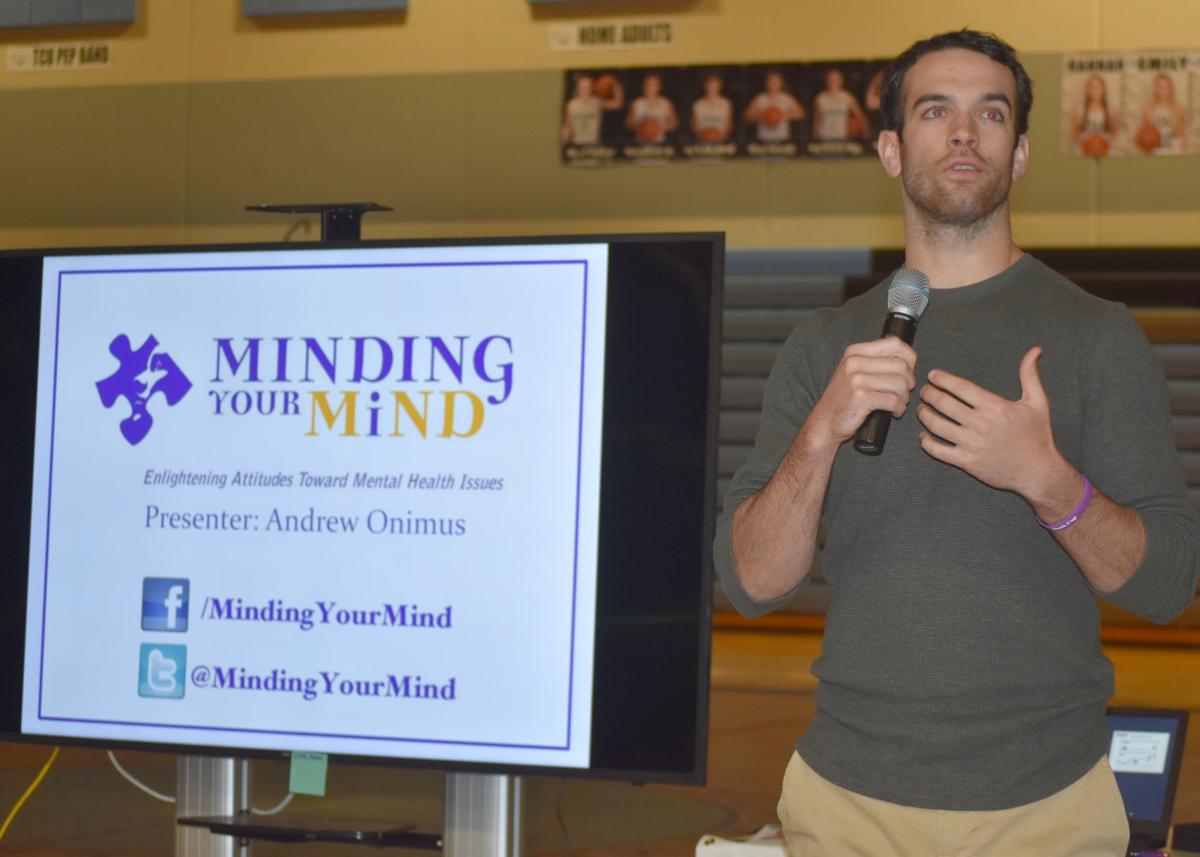 Andrew Omnius, mental health speaker for Minding Your Mind, said he doesn't like the word suicide. But as a survivor, he wants to deliver students the message he needed when he was younger: that there is hope.
As the Tri-City United School District's third mental health speaker in the past three years, Omnius gave talks to TCU Middle School and High School students as well as staff Feb. 12 and 13. He also delivered talks within the New Prague District Monday and Tuesday.
"Mental health awareness and social emotional supports are highly important for our TCU students, staff, and families," said Superintendent Teri Preisler. "We have been fortunate to partner with the Duck Cup Memorial Fund to offer these presentations."
Duck Cup Memorial Fund brings suicide awareness to schools through the efforts of mental health advocates. The organization was named for a boy named Dale, nicknamed "Duck," who died by suicide.
Getting this information to high schoolers is important. According to the National Alliance on Mental Health, suicide is the third leading cause of death for youth between the ages of 10 and 24. And, it reports, 90 percent of suicides occur as a result of underlying mental health conditions and half of lifetime mental illness cases begin by age 14, and 75 percent start by age 24.
"It's a good thing our school is doing these kinds of things," said TCU High School junior Jesus Ruiz following Omnius' Wednesday afternoon talk.
Ruiz has observed at his school a tendency for students to keep to themselves when they may need to reach out for help. For that reason, he liked that Omnius concluded his presentation by sharing a number for students to call or text if they feel depressed or anxious.
"I know people have [mental illnesses]," said Ruiz. "It's real. Just because you can't see it doesn't mean it isn't there."
Omnius shared his personal story about dealing with major depression, severe anxiety and insomnia. He spoke about positive coping skills — in his case, physical activities — as well as the dangers of developing negative coping skills, like isolation.
Using photographs from his childhood and college years, Omnius showed the audience that mental illness often goes unnoticed. One photo in particular showed him smiling with his family, though he was suicidal at the time. Although he was healthy physically, he needed professional help to get back on track mentally and emotionally.
Omnius also spoke about his experience with a counselor, Ostin, who he initially didn't like. Ostin challenged Omnius to think of just one OK thing in his life, and the only thing that came to mind was Frosted Mini Wheats cereal. Ostin, who himself dealt with mental illness, encouraged his client to hold on to that one thing. In his own experience, something as simple as peanut butter toast gave him a starting point to recover. After that, Omnius knew he could trust his counselor.
For students too scared to talk to a counselor, Omnius suggested they start by writing down their thoughts and feelings or telling trusted friends or adult before seeking professional help.
"Talking is sometimes the hardest thing to do, but also the most important thing," said Omnius. "There is happiness and peace on the other side of sadness and pain."
Knowing some students would want to remain anonymous when asking questions, Omnius gave them the option to send him text messages. For the last 15 minutes of the presentations, he read the questions out loud and gave answers.
During the TCU High School presentation for juniors and seniors, one of the questions Omnius received asked, "Why are so many struggling in high school?"
Omnius said some of the contributing factors could be bullying, comparison and social pressures. While social media can be a positive thing, he said such outlets might also increase stress and worsen depression.
Other questions led Omnius to talk about the hardest part of his battle: accepting that he had a mental illness. Until he realized counseling and medication helped, he felt hopeless. Although he still gets into a "funk" sometimes, like during the winter, he knows how to use his coping skills.
"It's not your fault and you shouldn't be ashamed," said Omnius. "Everyone struggles."
Reporter Misty Schwab can be reached at 507-333-3135. Follow her on Twitter @APGmisty.
©Copyright 2019 APG Media of Southern Minnesota. All rights reserved.