Hello,
I just wanted to reach out to all of you and let you know that I officially joined the Seattle City Council / District 7 campaign for elected office.
It is with much honor, that I even try to take on this challenge, but I feel called to help out the city I have called home the past 40 years.
With my vast experience and backgrounds in sports, education, cultural exchange, international experience, small business ownership, published author and professional speaker, I know that I can bring these various skill sets to the City Council in Seattle.
I ask for your support and encouragement with both "your vote" if you live in District 7, and/or a financial contribution to my campaign. www.jamesdonaldsonsteam.com
I pledge to serve the wonderful people of Seattle with the same integrity, openness, and transparency, honesty, teamwork, and leadership that I have lived my life with throughout.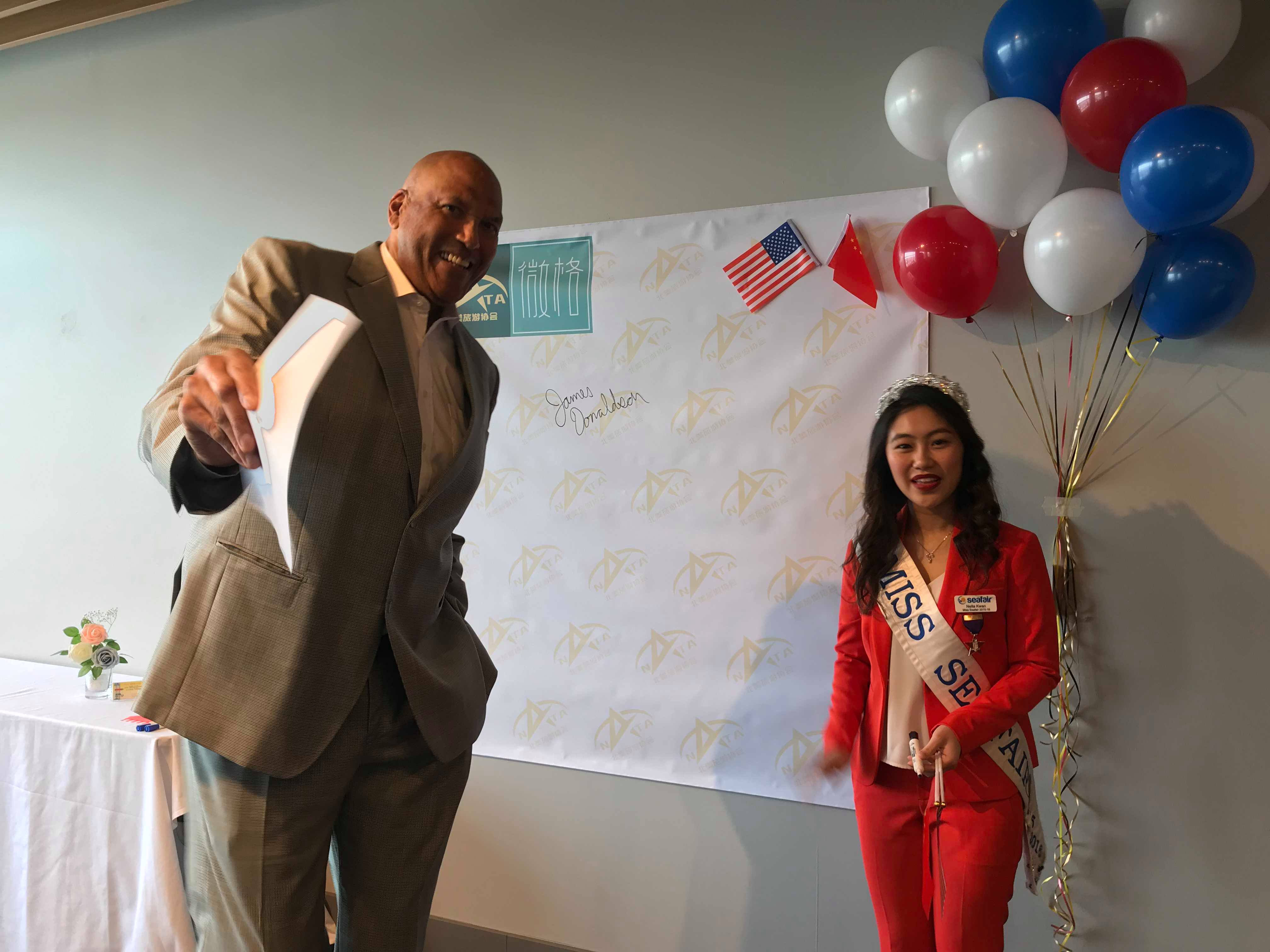 Greetings,
Hello and I hope that you're having a wonderful day.
I wanted to take a moment to personally introduce myself to some of you and to perhaps, "reintroduce" myself to some of the others.
I put out a press release on May 15, announcing that I will be running for Seattle City Council District 7 position.
It's something I've given much consideration to for the last five or six months, and I feel that at this point in my life, I am well prepared to represent the people and district 7, but also the City of Seattle as a whole.
Some of you know my story, especially over the last few years, and here is a link that will give you some more insight into exactly what I've had to overcome recently. James Recent Article Overcoming Challenges
Thank you so much for your interest in my campaign, and I know a lot of you are outside of my district as far as voting is concerned, but any contributions would be greatly appreciated and can be submitted via our website at www.jamesdonaldsonsteam.com
Thank you very much, and I'll stay in touch with you at least a couple of times a week moving forward.
Have a blessed day.
James Donaldson
About District 7
District 7 includes Magnolia, Queen Anne, Belltown, Downtown, Pioneer Square, and parts of South Lake Union and Chinatown/International District. The District has extensive shorelines, including several salmon recovery areas and tide flats, the fishing fleet, and also includes numerous industrial areas and Seattle's largest sewage treatment plant. District 7 includes Seattle's largest park, many of its most iconic corporations, and many thousands of small businesses.
Featuring many of Seattle's most popular tourist venues, District 7 includes the Olympic Sculpture Park, Seattle Art Museum, Seattle Aquarium and the Waterfront attractions, Seattle Center, Pike Place Market, the Klondike Gold Rush National Historical Park, Victoria Clipper, music, historic and architecture tours, and exterior sites of major TV shows and movies. The District also hosts 1.2 million visitors through six cruise ship berths.
Rarely thought of for its diversity, District 7 nonetheless reflects the true face and history of Seattle. Seattle's oldest neighborhood in Pioneer Square was home to two Indian villages; United Indians of All Tribes gather at Daybreak Star Indian Cultural Center. Chinatown and the International District reflect more than 150 years of immigration and segregation of dozens of ethnicities into compact neighborhoods. The Great Migration drew African Americans to Jackson Street, the birthplace of a multiracial musical community. Home to the some of the wealthiest and the poorest residents of Seattle, its denizens reside in spectacular view homes, glittering high-rises, and thousands seeking protection in tents, doorways, shelters and supported living communities.
District 7 also brings together all major forms of transit and transportation: the Highway 99 tunnel, Interstate 5, four major bridges, three ferry systems, the monorail, hundreds of bus routes, four Link light rail stations, two streetcar lines with a third line in final planning. Amtrak, Bolt, and Greyhound are just a few blocks south of the District.
Early Endorsements
"I have worked with James Donaldson on issues for inner city youth and endorse him for City Council District 7. He will bring a needed diversity perspective to the Council." – Justice Faith Ireland, Washington State Supreme Court (Ret.)
" Now more than ever Seattle needs its brightest minds, its biggest hearts, and its bravest leaders. That's a tall order. James Donaldson more than fills it. He has stood with Seattle in its proudest moments. He knows how to win. And he knows how to work as a team so that all of us can reach our goals." – George Toles, Executive Director, His Deal; former PA announcer for the Sonics
"I endorse James Donaldson for Position 7 based on more than 10 years of knowing him and following his work. James and I have worked on several projects related to education and athletics. I know him to be wise, compassionate and committed to excellence. His experiences locally and abroad have prepared him uniquely to serve the people of Seattle." – Erin Jones, Education and Systems Consultant, Obama White House Champion of Change, 2013; WA PTA Outstanding Educator, 2015
"I have known James for the past 45 years. He is one of the most sincere and honest human beings I have known. His leadership and influence have extended from the NBA to the local community. He is a true 'winner'." – Mark Edwards 46 years as a College Basketball Coach at Washington State University (Assistant Coach 9 years) and Washington University in St. Louis (Head Coach 37 years)
"We need a leader like James Donaldson. His team building and business skills, and respect for people is exactly the kind of leader we need on Seattle City Council at this time." – Gayle A. Johnson, Business Owner, EVOLVE Life Coaching
"I've known James since he was a student-athlete at Washington State University. James is a very self- disciplined individual. If elected he will work very hard to solve the problems that have created the perspective "Seattle is dying" atmosphere that exists today. James has taken the time to go out into the neighborhoods and study the problems first hand." – Stan Coe, DVM, Past President of Washington State Veterinary Medical Association; Past President of Washington State University Alumni Association
"The most dangerous challenge we have is to do nothing and assume that nothing will change. When we assume that nothing will change, we doom ourselves to that fate. We must carefully select our representative for a seat on the Seattle City Council District 7. James Donaldson is a person who is aware of certain concerns the district has, not just general concerns, but specific concerns. I firmly endorse James Donaldson for Seattle City Council." – Arif Khatib, Founder, and President Emeritus, Multi-Ethnic Sports Hall of Fame
"James Donaldson is a good draft pick for Seattle City Council this year. Donaldson will bring to the Council Chambers experience with basketball, business, and resilience making him as well rounded as a properly inflated NBA regulation basketball. I am also confident Donaldson will also help his colleagues restore a sense of team in this region in tackling transit and transportation, homelessness, addiction, and congestion to restore a sense of community." – Joe A. Kunzler, Regional Transit Advocate
I would like to offer my endorsement for James Donaldson's candidacy for Seattle City Council's District 7 Position. James offers a profound breadth of expertise and wisdom including decades of leadership within the retired NBA players association, extensive experience as an entrepreneur in the Seattle area and internationally, and a terrific track record of collaborating and building alliances across the Seattle community. James is a dedicated advocate for many underrepresented populations and people dealing with severe challenges and inspires other leaders as well with his unique leadership qualities and communication abilities. It is my pleasure to support James in his candidacy for Position 7.
David B. Woodward
Principal, David Woodward & Associates and
Chairman of the Board, Rotary Club of Seattle
James Donaldson's refreshing positions on housing and small business issues would bring a necessary and underrepresented voice to The Seattle City Council
Randy Aliment, Partner
Lewis Brisbois
James Donaldson would be a great City Council member as James has represented former NBA Players to the fullest of his abilities and with tremendous results. I believe James would do the same for the City of Seattle and the City Council. James has always represented the NBA Retired Players Association with the utmost of respect and dedication to get the job done.
Lafayette Lever, AZ. Chapter of the NBRPA, Board member and Founding President
# # #