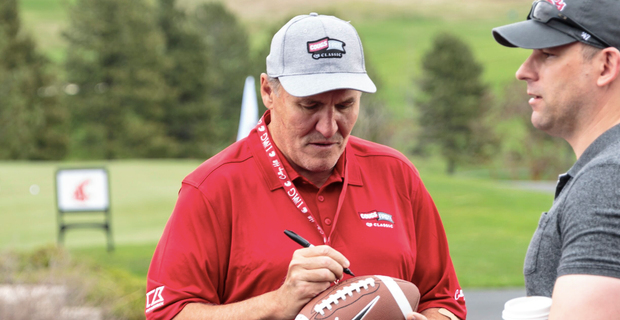 #PULLMAN — Mark Rypien, the old #Cougar quarterback, and Super Bowl MVP, is as personable as ever and relaxed as he chats between holes at the first-ever CougsFirst! QB Classic on a sunny spring day at Palouse Ridge Golf Club. He hits monster drives and signs autographs with easy aplomb. But when the topic turns to #mentalhealth his voice moves from casual to urgent.
"Unless we talk about it and change the #stigma of #mentalhealth and help those who need help, it's going to be the same," Rypien says.
Fourteen months ago, not long after #TylerHilinski's death by #suicide and in the wake of several publicized #mentalhealth woes among celebrities, Rypien decided he needed to make his own struggles with suicidal thoughts and emotional control issues public in a series of interviews with The Spokesman-Review and others.
"I was (battling), and I've seen a lot of people go through #depression and a lot of people go through things that they need help with," Rypien told Cougfan.com at the QB Classic.
He pointed to the alarming statistics among military veterans to illustrate the scope of the nation's mental health problems: an average of 22 suicides each day.
"It's tragic, that's over 8,000 a year. One is too many but if we can save one by opening up a dialogue, just by sitting down and being able to talk about it.
"We need to start sitting down and talking about #mentalhealth, we need to ask our sons and daughters questions and be open about things. If someone is struggling, we need to do the best we can to make sure we're doing our job."
********************************************************************
 #JamesDonaldson notes:
Welcome to the "next chapter" of my life… being a voice and an advocate for #mentalhealthawarenessandsuicideprevention, especially pertaining to our younger generation of students and student-athletes.
Getting men to speak up and reach out for help and assistance is one of my passions. Us men need to not suffer in silence or drown our sorrows in alcohol, hang out at bars and strip joints, or get involved with drug use.
Having gone through a recent bout of #depression and #suicidalthoughts myself, I realize now, that I can make a huge difference in the lives of so many by sharing my story, and by sharing various resources I come across as I work in this space.  #http://bit.ly/JamesMentalHealthArticle
***************************************************************
Rypien's cousin Rick, a promising young player in the National Hockey League, died of suicide in 2011.

"When you talk about Rick, he had everything in front of him," said Mark. "He was an up-and-coming guy, signed with the Winnipeg Jets. Craig Heisinger was the GM that got him to come to Winnipeg to a team that we've seen in these last four or five years has been on the rise and Rick could've easily been part of that and really should've been, outside of the fact that there were demons taking control of his emotions."

Mark says his own troubles began about a decade ago when, as the S-R's John Blanchette wrote last year, his impulsive behaviors began to escalate; aggressiveness and verbal outbursts increased; and so did regret and self-hatred.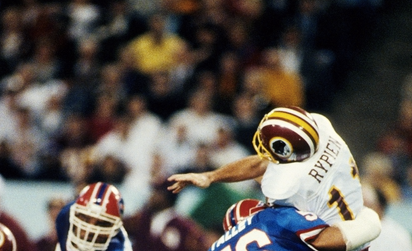 "My story is impactful because people see me in a different light. I want them to see me in an accurate light. I've been down the darkest path. I've made some horrible, horrible mistakes. But I've given myself a chance to progress forward (through counselors, doctors, medication and family support)," Rypien told Blanchette.
Could Rypien's struggles be CTE related?
In an interview with KHQ-TV in Spokane last year he said, "I suffer from a complex stew of #mentalhealth conditions. Dark places, #depression, #anxiety, addictions, poor choices, poor decisions brought about from dozens of concussions and thousands of subconcussive injuries from playing that sport."
Rypien played 11 seasons in the NFL, five as the starter in Washington, following an All-Pac-10 career at WSU.