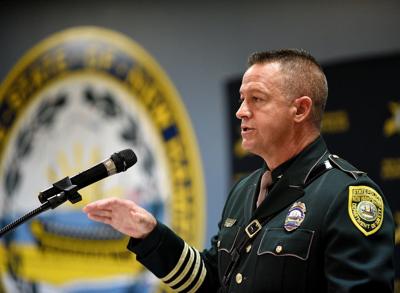 NASHUA — More police officers today are dying by #suicide than in the line of duty, a recent study found. But the way #policedepartments address #mentalhealth is changing.
"This is our next big mountain to scale," said David Goldstein, chief of the Franklin #PoliceDepartment.
There is a renewed focus on first responders' #mentalhealth after Nashua police Capt. Jon Lehto died by #suicide on Sept. 9. Lehto was a 20-year veteran of the Nashua #PoliceDepartment.
Once, Lehto's death might not have been discussed. But as #policedepartments are working to be more open about trauma and #mentalhealth, Chief Michael Carignan of the Nashua #PoliceDepartment and Lehto's family publicly announced that Lehto had died by #suicide.
"What the chief has done, and what the Lehto family has done by coming forward with this is one of the bravest acts that I have ever seen," said Goldstein. "This is going to open up conversation."
#JamesDonaldsononMentalHealth –


Welcome to the "next chapter" of my life… being a voice and an advocate for #mentalhealthawarenessandsuicideprevention, especially pertaining to our younger generation of students and student-athletes.


Getting men to speak up and reach out for help and assistance is one of my passions. Us men need to not suffer in silence or drown our sorrows in alcohol, hang out at bars and strip joints, or get involved with drug use.


Having gone through a recent bout of #depression and #suicidalthoughts myself, I realize now, that I can make a huge difference in the lives of so many by sharing my story, and by sharing various resources I come across as I work in this space. #http://bit.ly/JamesMentalHealthArticle




It has taken decades, but efforts to recognize #mentalhealth concerns among first responders are finally seeing results, said Goldstein, who also serves on the advisory board for Veteran & First Responder Healthcare, which provides treatment for service members, first responders and their families who suffer from substance use and behavioral health disorders.
It is relatively common for #policedepartments to help officers debrief after major incidents, but more departments are starting to deal with the piled-up stress of everyday police work that can lead to #mentalhealth challenges.
New Hampshire State Police have been at the vanguard of this movement. Just over 10 years ago, Maj. Russell Conte worked to start a peer support program for state troopers — individuals are trained to talk with other troopers about problems in their professional and personal lives. They can act as sounding boards for troopers working through issues, said Conte, who retired from the state police but returned to serve as health and wellness coordinator for the agency.
Importantly, Conte said, the peer counselors are trained to know when to refer a trooper to a #mentalhealthprofessional.
Col. Christopher Wagner, director of New Hampshire State Police, acknowledged that a national conversation has begun: "that law enforcement is hurting and law enforcement needs to do more to protect our people with #mentalhealth." And he said his agency has become a national leader in that effort.
When he first took over as colonel three years ago, Wagner decided to make #mentalhealth a priority for the agency. So in addition to having the peer counselor program available, every trooper goes through an eight-hour training on the effects and signs of post-traumatic stress, and when and how to seek help.
The agency brought in a #mentalhealth expert to talk about human resilience and coping skills. And starting this year, all troopers will undergo a 40-hour crisis intervention training to help recognize the symptoms of #mentalillness and learn how to respond with compassion to an individual in crisis.
Troopers, Wagner said, see things "that quite honestly, people aren't supposed to see," such as terrible homicide scenes, fatal crashes and dead children.
"The days of suffering in silence are over," he said. "We are an organization that appreciates the fact that we're asking you to do a very, very difficult job, that it is going to change you, that you are going to be negatively impacted. And therefore, this division is going to stand behind you, stand with you, and provide you with resources … and provide you a culture where you can raise your hand and ask for help."
And Wagner said he's certain that the strategy "is saving troopers' lives."
This more open way of dealing with #mentalhealth is relatively new, Conte said. The peer counseling unit has been in place just over a decade. While the idea is catching on in local police departments, including Nashua and Manchester, police and other first responders still tend to feel ashamed asking for help, he said.
"There's that aura that first responders always have the clear head, they don't have any problems — they come to solve your problems," Conte said.
As a result, he said, police and other first responders have tended to pretend they aren't struggling.
"Nobody gets a pass from emotion," Conte said. "Nobody gets a pass from the trauma that they see. You would not be a human if that didn't affect you."
#Policeofficers have also traditionally been reluctant to admit they are struggling, Conte said, because admitting to a #mentalhealthchallenge could impact their careers.
"They are afraid to be labeled, which is what #stigma is all about. If you were put on light duty or somebody removed your weapon, that could affect the rest of your career," he said. "Will I be promoted? Will people trust me? Will I be of value to my coworkers?"
Ideally, Conte said, psychological injuries would be treated like physical injuries: "You go out, you take care of it, you come back. Everybody welcomes you back and you go on with your career."
A good example of the trauma #firstresponders encounter on the job, Wagner said, was the horrific crash in June that killed seven motorcyclists and left three others injured. Some of the troopers who responded are military veterans, he said, but they told him that scene was the worst thing they had ever seen. "So what comes with that is a lifetime of memories, a thing they don't ever want to see again or relive, but they're going to for the rest of their lives," he said.
When he was a young trooper, Wagner said, he would have been expected to get back on the road right away after something like that. Today, he said, the troopers go through a critical incident debriefing with a clinician, and if they need more help, they'll get it.
As open discussion of #mentalhealth becomes normal — cadets now undergo training with #NAMI New Hampshire, the state chapter of the #NationalAllianceonMentalIllness — the younger generation of first responders will be more willing to accept help and use #mentalhealthservices, Conte said. "I feel they're going to have a better career, and a peaceful retirement," he said.
Wagner noted there's a national shortage of people entering law enforcement. "So the more we can do to reassure those that are joining the profession that they'll be taken care of, the better off we will be," he said.
Rik Cornell, vice president for community relations at the Mental Health Center of Greater Manchester, said his agency offers classes in "#mentalhealth first aid" and "trauma stewardship" that can help people recognize signs of distress and learn how to get better.
Cornell also urged first responders to reach out to their local #mentalhealth centers if they want to talk to someone. "We're there for them," he said. "We're not just there for the people that come in our door for treatment."
Conte said he was heartened to see how Nashua police addressed Lehto's death. "There should be no shame," he said. "This person had a wonderful career, they mattered and they did an honorable job."
Carignan said the Nashua #PoliceDepartment and the Lehto family believed that being open about Lehto's death could help open conversations about #mentalhealth. And that could help others — which would be the best way to remember Lehto.
"Jon spent his career helping people," Carignan said in a statement. "We are hopeful that by not remaining silent about Jon's death by #suicide, we can honor who he truly was and encourage others to reach out for help."
Staff reporters Josie Albertson-Grove and Shawne K. Wickham contributed to this report.