Just a week after the #Stanford goalkeeper and captain's death, university officials vow to strengthen their #mentalhealthservices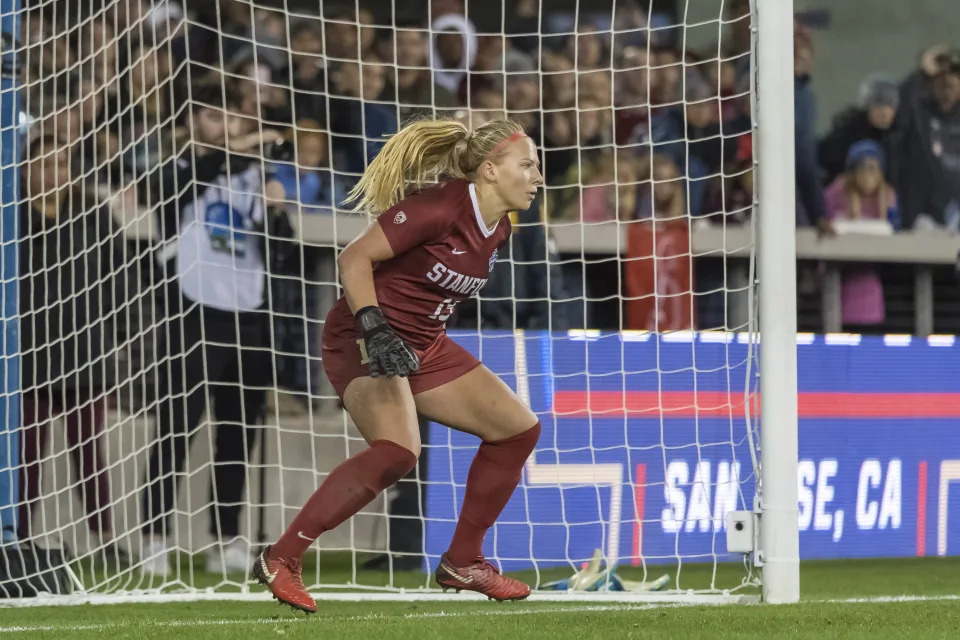 By
Meyer's family has released a statement in advance of today's memorial service for their #daughter.
"We are very grateful for the generous outpouring of support for Katie and our family and thank you all deeply. Katie was a bright light in our lives and the lives of so many. Her light will continue to shine through the changes that we intend to accomplish in her honor. When the time is appropriate, we will provide further information regarding the desired and necessary change to prevent this tragedy from happening to other #students and their families. We ask that everyone respect our family's privacy and give us the time we need to heal. Thank you. Respectfully, Steve and Gina Meyer."
---
#JamesDonaldson notes:
Welcome to the "next chapter" of my life… being a voice and an advocate for #mentalhealthawarenessandsuicideprevention, especially pertaining to our younger generation of students and student-athletes.
Getting men to speak up and reach out for help and assistance is one of my passions. Us men need to not suffer in silence or drown our sorrows in alcohol, hang out at bars and strip joints, or get involved with drug use.
Having gone through a recent bout of #depression and #suicidalthoughts myself, I realize now, that I can make a huge difference in the lives of so many by sharing my story, and by sharing various resources I come across as I work in this space. #http://bit.ly/JamesMentalHealthArticle
#StanfordUniversity is promising to expand its #mentalhealthservices following the death by #suicide of 22-year-old soccer team captain #KatieMeyer last week, the third or possibly fourth #student at the university to die by #suicide in the last 13 months.
Jacob Meisel and Rose Wong also died by #suicide. Another #student, third-year law grad Dylan Simmons, died in his campus residence on January 20, but a cause of death has not yet been released.
"Over the last year, the #Stanford community has grieved the unimaginable loss of multiple members of our #student family, and the past few weeks have been especially challenging and heartbreaking," the college said in a statement released on #Facebook Tuesday.
"In addition to #KatieMeyer, a Resident Assistant and #Stanford Women's Soccer captain who died by #suicide on March 1, we continue to mourn the recent death of Dylan Simmons, as well as the deaths of Jacob Meisel and Rose Wong, who passed away in 2021. All were accomplished, loving #students we will always remember. We extend our deepest condolences to their family and friends."
#Stanford has begun recruiting staff for additional clinical counseling and therapy positions. Additionally, officials have said they plan to consult with experts in an effort to construct #mentalhealth measures that go beyond basic clinical support.
Universities across the country have seen a significant rise in #students seeking wellness and therapy services through their campuses over the course of the #COVID #pandemic. A 2021 study by the Center for Collegiate #MentalHealth at Pennsylvania State University found that 72 percent of 43,000 #students who sought help from 137 campus counseling centers last fall said the #pandemic has had a negative impact on their #mentalhealth.
"Regardless of the reason for seeking #mentalhealthcare, the vast majority of #students seeking #mentalhealthcare reported that #COVID-19 has negatively impacted at least one aspect of life," the study said. "These will be critical aspects of the #student experience for colleges and universities to focus on in the coming months. It is worth noting that 28% of #students seeking #mentalhealthservices report that #COVID-19 did not negatively impact their #mentalhealth."
In a recent interview on NBC's Today, Katie's mother, Gina Meyer, expressed concern that between academics and sports there was too much pressure put on her #daughter.
"There is #anxiety and there is #stress to be perfect, to be the best, to be number one," she said.
As captain and goalkeeper of Stanford's soccer team, Meyer helped lead the women's team to an NCAA championship in 2019. She was a resident assistant at the campus and a senior majoring in international relations.
A memorial service for Meyer will be held on Saturday.
This article discusses #suicide. If you or someone you know is exhibiting warning signs of #suicide, seek help by calling the #NationalSuicidePreventionLifeline at (800) 273-TALK (8255).