Join James Donaldson on Standing Above the Crowd sports talk radio show
Saturday, March 19, 2022 at 10am (PST)
Special Guest Former KJR Seattle Sports Radio Host and Author, Mike "Gas Man" Gastineau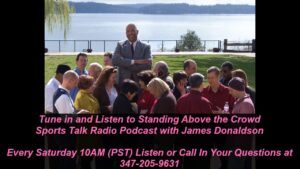 Listen to the show live at 347-205-9631
or
Call in and submit your questions to the live show at 347-205-9631
Mike "Gas Man" Gastineau brief information
Mike Gastineau is a freelance writer, author, broadcaster, and communications consultant.
His current clients include Anthony's Restaurants, Sonics Forever (a podcast about the Seattle Supersonics), the Washington Athletic Club, the Seattle Mariners, and Dancing Fish Winery.
Past clients include the 2018 USA Special Olympics Games, Negroleagueshistory.com, the 2016 Copa America Centenario Games in Seattle, Tatoosh Distillery, The Boeing Classic, Pearl Jam Radio, KZOK, and KJR.
His written work has appeared in SportspressNW.com, the Seattle Times, the Seattle Mariners Magazine, the Washington Athletic Club Magazine, Lindy's College Football Magazine, and The Grand Salami. He has authored four books and consulted on a fifth.
His latest book, Fear No Man, will be published in August of 2021 and is about the 1991 University of Washington football team that went 12 and 0 and won the Coaches National Football Championship.
His 2018 book, Mr. Townsend and the Polish Prince, tells the remarkable story of Joe Purzycki, the first-ever white head football coach at a Historically Black College, and Nelson Townsend, the athletic director who had the courage to hire him. The story is currently being developed into a movie script.
In 2015 he consulted with adventurer Stephen Trafton on Trafton's book At The Edge, a story of Trafton's adventures in the Arctic, his world-record high speed driving at Bonneville, and his colorful banking career. Gastineau wrote the first draft of the book and conducted most of the interviews for stories that were used in the book.
In 2013 his book Sounders FC: Authentic Masterpiece was published. The critically acclaimed regional best seller details the story behind the Sounders successful launch as a Major League Soccer expansion franchise in 2009. The book was published in Brazil in 2015.
In 2009, he teamed up with Art Thiel and Steve Rudman to co-author The Great Book of Seattle Sports Lists.
He worked full-time as a sports talk show host at KJR Radio in Seattle from 1991 to 2012.
Gastineau is on the Board of Directors for The Northwest Literacy Foundation, and the Morris Trophy.
Prior to his arrival in Seattle in 1991 he worked in radio in Montana, Nebraska, and Virginia. He is a 1982 graduate of Indiana University.
Mike and his wife Renee live on Whidbey Island with their dog Chico.
Listen to the show live at 347-205-9631
or
Call in and submit your questions to the live show at 347-205-9631
James Donaldson has complied quite a list of accomplishments over the years. Washington State University graduate '79, Small business owner for 28 years, 40 years involved in his community with youth programs, education, mentoring, women and minority business advocate, political candidate and a 20 year professional basketball, including 14 years in the NBA with an All Star appearance in 1988! Currently, James is an advocate for mental health awareness and suicide prevention as he is the Executive Director of his own non profit 5013c foundation Your Gift of Life Foundation Now join James Donaldson as he hosts his own sports radio talk show with a variety of intriguing, inspiring and interesting guest each and every week. Every Saturday at 10am (PST)
?
Contact James Donaldson Here